Supply Chain Risk Management
Deck your shop with right amount of stock this Christmas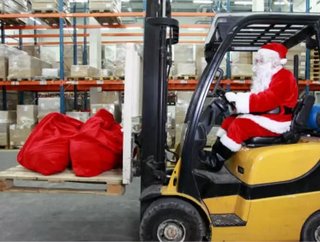 Written by Sarah Heath of ediTRACK According to research, the average retailer loses 10% of its Christmas revenue through being out of stock, with clot...
Written by Sarah Heath of ediTRACK
According to research, the average retailer loses 10% of its Christmas revenue through being out of stock, with clothing cited as the most commonly out-of-stock producT. Every year in the run up to Christmas, shoppers pour into shops and stream onto websites, and at least one major clothing retailer stocks out of a popular item. When this happens, its customers often turn to competitors rather than take the time to order items in, especially close to Christmas. The question is, can retailers afford to stock out when the Christmas shopping period can account for up to half of their annual profits?
Last year, retailers including Primark, Debenhams and John Lewis all reported positive Christmas sales figures, but many more reported disappointing sales. While retailers express confidence in increased online sales this year, customers don't have the same expectations, with many planning to spend just the same amount as last year.  
Retailers need to maximise profit potential by keeping shop floors and warehouses well-stocked; if customer spending forecasts are to be believed, there's no room for missed sales due to under-stocking. Retailers must be vigilant and avoid complacency at all costs.
Here are ediTRACK's top ten tips for keeping the shop floor decked with stock that's the right quality and price this holiday period.
1.     Ensure your freight forwarder/s and delivery companies are capable of handling additional capacity and store details of all the companies you use for future reference. Never try a new freight forwarder or delivery company just before your peak period – always play it safe with your stock.
2.     Never implement system changes prior to peak period – this automatically increases potential risk. Plan any changes well in advance of the Christmas period to give teams time to adapt to new processes.
3.     Have alternative delivery methods such as airfreight in place as back ups to your usual means of transport. Be aware of the exact cost of delivery of using these alternative methods so as to be able to weigh up the cost benefit.
4.     Improve the accuracy of your stock taking and tracking. Use a computerised stock taking system alongside an annual physical count for extra security. As a rule of thumb, 80% of demand will be for 20% of your items – so keep a close eye on best-sellers in particular, as out-stocking of these items will have a more significant impact on profits than your other items. RFID and EDI facilitate a continuous check on inventory, enabling you to track items in real-time throughout the supply chain lifecycle from production to point of sale.
5.     Know your supplier's capacities (i.e. maximum output per factory) and whether or not they can cope with additional demand. Maintain accurate records of suppliers and factories that have additional capability, for example holding stock on standby in a holding pen, so that when you require more stock you have instant access to information about a supplier base that can support your requirements. Software such as ediTRACK's Ethical Trade module will capture and store details of the services and garments a supplier can provide, which can then be processed via a fast-track approval programme.
6.     Enable flexible sourcing and vet your suppliers. Supply chain management (SCM) software can provide more flexibility when you source goods, and from who and where you source them from - it might be wise to source from several different regions in case of local issues or disasters. It can also offer improved communication with supply chain partners making the sourcing and delivery of stock easier and quicker. Critical path management through SCM software helps to mitigate disruptions in your supply chain as automatic alerts bring to your attention key activities not running to plan. Track your supplier and factory audits with SCM software for improved visibility - know where and how your stock is being made, so that you can be confident that your factories and suppliers are working safely and ethically in order to prevent any down time or disasters.
7.     Ensure effective, clear communication. Using web-based software can help to keep everyone informed, and make sure that they have access to the most up-to-date order information. When the relevant staff have real-time access to the crucial data (delivery dates, sales figures, order info etc), processes become more streamlined and lead times tend to reduce.
8.     Order little and often using the JIT (Just in Time) approach. This can help reduce the risk of under-stocking and it increases control over stock flow. Retailers like Zara have proven that if you have reliable suppliers who can deliver on demand, then small, regular batches can be a more cost-effective way to manage stock. Keep a close eye on stock and order in frequent small batches to replenish the store. This way, if sales suddenly soar, you can quickly and reasonably accurately order in the requisite amount. It can also save on storage costs, free up working capital, and enable you to be more reactive to stock changes.
9.     Secure your stock and have quality control checks. Keep checks on the security of your warehouses and distributors (CCTV, controlled access), and ensure they have the correct defence systems in place to keep your stock protected. Keep good records of where stock is stored and how much it's worth. It's also no use having a huge batch of stock if it's damaged or poorly fitting, as it won't be fit to purchase. To reduce this, have stock tracking and batch tracking in place for optimal traceability, and have goods quality-checked at regular points in the supply chain. Having a high level of visibility at every stage is crucial, as it deters theft and enables you to quickly flag item defects with suppliers to reduce reoccurrence.
10.  Predict demand as accurately as possible. When forecasting, there are two key factors to take into consideration: Seasonality, and projections based on past consumer data. To get as accurate a prediction as possible, implement software that collects and analyses data for you, on a dashboard that generates reports at the click of a button. Social media can also help to predict surges in demand. Use it to harness data and track what's being talked about on social networks, for example, certain products or websites.