Supply Chain Risk Management
Datacentre cooling techniques could reduce energy bills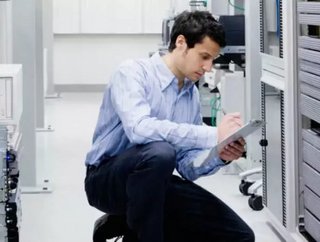 Written by Paul Almond, Director at Datacentre UK Temperature control is paramount in the datacentre industry, however the problem is that maintaining...
Written by Paul Almond, Director at Datacentre UK
Temperature control is paramount in the datacentre industry, however the problem is that maintaining a regularly constant, low temperature can be extremely costly.
Unlike most office environments, trying to keep a datacentre cool by using air conditioning would very quickly incur a large energy bill.
As datacentres use around two per cent of the Global Electricity Consumption, it's easy to understand the need for a cheaper alternative. One solution to this is free cooling.
This low-cost, low-energy cooling method enables datacentres to keep the inside temperature at the optimum level (crucial), as well as saves companies some money off their high energy bills. But what exactly is free cooling, and can it be used in other working environments? Let's take a look.
Keeping temperatures down
Free cooling makes the most of low external temperatures in order to help with water chilling. Once the water is cooled sufficiently, it can be used instead of expensive air conditioning systems to keep the internal temperatures of a building down.
An advantage of free cooling is that the chilled water can be stored for later use, or used straightaway, depending on the need.
This means that companies can take advantage of colder seasons, such as winter and spring, to chill water which can then be used during the hotter months to control and regulate the internal building temperature.
Reducing energy usage
As I mentioned earlier, it is a high priority of datacentres to reduce their energy usage wherever possible. Free cooling offers a more environmentally-friendly approach to controlling the temperature of a datacentre, not to mention a cheaper alternative to expensive air conditioning systems.
Free cooling solutions offer two options for datacentres: an integral free cooling coil and an independent free cooler.
The former is an ideal option for buildings with limited space and allows for high energy efficiency. Independent free coolers on the other hand are designed for maximum efficiency and could save a company up to 70 per cent in terms of energy usage.
Other sectors can benefit
So now we've seen how free cooling works in datacentres, let's explore some of the other industries in which it may help to improve energy efficiency and reduce costs:
Pharmaceutical - In the pharmaceutical industry, maintaining a regulated temperature is vital. Chemicals and substances may require storage at specific temperatures, and free cooling is one way to ensure this.
With the change in seasons, free cooling can ensure that these products are kept at a regulated temperature within the company's control, and one that adheres to the regulations set by the British Association of Pharmaceutical Wholesalers.
Food - Whether you work in a restaurant or a supermarket, there are strict guidelines set out as to how food should be correctly stored in order to be safe for human consumption.
Products in the dairy, fresh fruit and vegetables, and meat and fish categories in particular require cooler temperatures than most. Maintaining the internal temperature will prevent bacteria from growing and will ensure that the food products' shelf life is as stated, and that any persons who eat the food do not become ill as a result.
Other cooling techniques
There are of course other cooling techniques which can be used to control temperature. These include:
Deep seawater; High-altitude coldness; Night-time coldness and Subterranean geothermal energy.
While these have similar advantages to free cooling, they are also not without their drawbacks. For example, if your company's building is not located within range of a water source, it is unlikely you will be able to make use of deep seawater cooling. In locations where the outside temperature is still relatively mild at night time, it may also be difficult to use this cooling method to regulate your internal temperature.
Because of these limitations, those industries for which temperature regulation is important may find it useful to tap into the datacentre cooling expertise and implement a similar solution to help reduce high energy usage and make great savings on bills.