Supply Chain Risk Management
Briggs Equipment talks big trucks at Multimodal 2015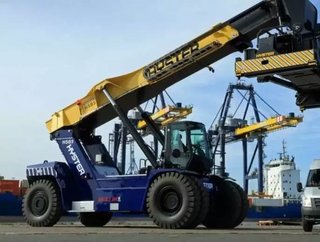 Follow @SamJermy and @SupplyChainD on Twitter.The topic will be 'big trucks' when Briggs Equipment attends this year's Multimodal exhibiti...
Follow @SamJermy and @SupplyChainD on Twitter.
The topic will be 'big trucks' when Briggs Equipment attends this year's Multimodal exhibition at the Birmingham NEC (April 28-30) to promote Hyster equipment for port centric operations.
Briggs Equipment's National Account and Business Development Director, Ian Tongue, said: "The Hyster big trucks range is much bigger than people think, so we're keen to have the conversation about reach stackers and empty container handlers and the contribution they can make to reductions in operational expenditure.
"We're working closely with a number of port operators and MultiModal is the ideal platform for us to demonstrate how we can support potential customers and existing users of Hyster equipment."
Designed and built to meet the demands of lifting freight containers at ports, docks and freight handling yards, the Hyster 'big truck' range includes diesel and LPG-powered reach stackers and empty container handlers for transferring and stacking shipping containers in ports and terminals. Together with pallet trucks and forklifts to unload the containers and transfer palletised goods to the marshalling areas, and a range of warehousing equipment, they deliver a complete solution for the transfer of goods from ship to shore, to the store and onto the shop floor.
"Productivity is the goal, so keeping equipment downtime to a minimum is vital to minimise the impact on day-to-day operations." added Tongue. "We pride ourselves on being able to recommend and supply the most cost-effective ways of moving cargo efficiently."
Along with a nationwide team of 600 engineers which provides a 24-hour, 365 days a year machine breakdown support service, Briggs Equipment has developed a series of flexible service options. Since 2010 the company has invested around £52.5million to give port operators access to a bigger range of equipment than ever before and heavy lifting trucks are now available on contracts of up to a year.
On stand number 529 in Hall 7 visitors will have an opportunity to discuss the challenges they face and Briggs Equipment's ability to support them with customised materials handling solutions. Visitors will also be able to see the BMW S1000RR bike, which is being ridden by Peter Hickman of the Briggs Equipment-sponsored RAF Reserves team in this year's British Superbike Championship.
Briggs Equipment UK Ltd is the world's largest global distributor of Hyster and Yale Europe Materials Handling equipment.  For more information and to discover all of Briggs Equipment's latest news, visit the Briggs online media centre.
Multimodal is the UK and Ireland's only one stop shop for cargo owners. Meet new suppliers, compare new routes and modes, source new products and ideas to improve efficiency and network with everyone from the supply chain industry at the event.