Supply Chain Risk Management
The August edition of Supply Chain Digital is live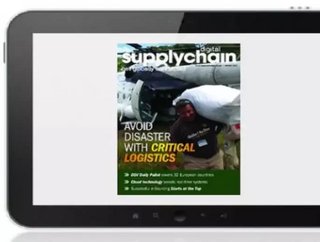 Read the August edition of Supply Chain Digital's Magazine here Crisis averted Following Ella Copelands abdication from the Supply Chain Digital th...
Read the August edition of Supply Chain Digital's Magazine here
Crisis averted
Following Ella Copeland's abdication from the Supply Chain Digital throne last month, the magazine's loyal subjects feared disastrous times ahead. Fortunately, such a crisis has been averted though, largely thanks to a company that has made relief efforts a mainstay of its global operations.
UPS's renowned inventory management abilities have taken the company to the front line of disasters including Hurricane Katrina and Haiti to contribute to the recovery and aid of the areas. And in this month's issue, the company's Humanitarian Supply Chain Director, Esther Ndichu and Director of Humanitarian Logistics, Dale Herzog talk us through the three main aspects of a successful, logistical, disaster relief effort: technology, finance management and communication.
Innovation and technological prowess is just one of the features UPS has been made famous for over the years, and is something companies like DSV are trying to replicate. Europe's third largest logistics provider describes its new daily pallet service set to revolutionise the express shipment industry.
Elsewhere, technology leads the way this month as procurement teams jump on board with e-sourcing, and The Boston Consulting Group explains how cloud technology is evolving a demand-driven supply chain.
·         UPS weathers the logistics storm
·         Daily Pallet service is the logical next step
·         Successful e-sourcing starts at the top
·         Cloud technology unleashes the demand-driven Holy Grail
·         Top 10 tips to achieve a lean supply chain
Enjoy the issue!
Editor, Supply Chain Digital