Supply Chain Risk Management
Analysis: Is supply reshoring a solution, or a problem?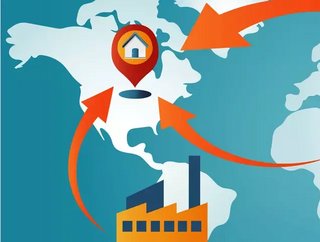 Supply chain chiefs are increasingly moving manufacturing from overseas to back home, to bypass supply problems. But is reshoring really the answer?
A zoonotic virus in a bustling wet-food market in Wuhan, China, ends up costing the world economy $10 trillion and counting (not to mention five million lives). And then a single gust of wind buffets a giant container ship, which becomes wedged for six days in the Suez Canal, the world's most important aquatic thoroughfare. The bill? $40 billion.
Little wonder that businesses feel "battered" by recent events, and that chief supply chain officers (CSCOs) have had a "harrowing" time. Not my words, but those of Gartner, in a supply chain survey it published this week.
The headline finding was that a third of the survey's battered and harrowed respondents are actively looking to move from a global supply chain model to one that's regionally based. 
The main reason given is they see serving the world from distant factories as "unsustainable" - not only in the net zero sense, but because businesses and CSCOs have never felt more vulnerable to the cruel vagaries of fate. This is why many businesses are looking to shift manufacturing and supply bases back to their home countries - so-called 'reshoring'.
Reshoring all about taking back control
The thinking and theory behind reshoring is clear and understandable: it's about taking back control, because control has itself been in short supply over recent years - almost as short as the supply of microprocessors. 
It was the global shortage of computer chips that prompted Samsung to plan a new $17 billion microchip manufacturing plant in Texas. And it's not just multinationals that are seeking to wrest control from the fangs of fate, governments are also looking to do so. The Biden administration is underwriting a drive to bolster domestic US chip production, with the US Senate recently approving $52 billion in subsidies for new US-based chipmaking plants.
But is reshoring really the answer to building more resilience into supply chains? 
Yesterday (November 24), in a piece for Forbes, Dave Evans - CEO of digital manufacturing firm Fictiv - pointed out that reshoring can bring as many challenges as it can potentially resolve. Not least that it is horrendously expensive and terribly complex.
Elon Musk decries complexity of manufacturing 
Evans references Tesla founder Elon Musk, who back in 2019 was talking about the production of his chronically delayed Roadster electric car. At the time Musk told a press conference that making a prototype was easy but that manufacturing at scale was an entirely different matter.
"Even for rocket science it's probably harder by a factor of ten to design a rocket manufacturing system than to design the rocket itself," Musk said, adding that for cars "it's maybe one-hundred times harder to design the manufacturing system than the car itself".
Quite how much harder it is to manufacture computer chips than it is to source them from South Korea or Taiwan is another matter. The unscientific answer is 'much, much, much harder'.
But it's not just complexity that's a challenge with reshoring, it's also time-scale. Samsung's new Texas plant, for instance, won't come online until 2024. 
Reshoring is no quick fix
As Evans points out, the capital and time investment required to create automated factories is huge, and all the while demand continues to grow unabated without the supply to feed it. In Samsung's case, that's two more years of sourcing chips from overseas. This is no short-term fix.
But in some ways, that's the entire point. Reshoring is not a short-term fix. It's about future-proofing supply chains from risk. From another pandemic in 2050, maybe, or from a drunken container captain attempting a three-point turn in the Panama Canal.
But is Gartner right? Are we really beginning to see a paradigm shift in manufacturing? Thirty years ago, multinational companies in the developed world began moving some or all of their production to countries in Asia, Eastern Europe and Latin America, where labour is cheap. Are we really beginning to see a reversal of that trend?
Maybe. Pre-pandemic, there were signs that reshoring was gaining traction among manufacturers. Between 2015–2018, there were 253 instances of reshoring, creating a total of 12 840 jobs in Europe, according to research from Eurofound, a body dedicated to improving living and working conditions. 
Unknown risk key driver of reshoring
Back then of course the reasons for reshoring were different: political instability and extreme weather or geological events were among the drivers. There's not much a business can do about an erupting volcano, a typhoon or an army-led coup, aside from plan ahead. 'Hope for the best, prepare for the worst,' has always been the mantra here.
But if reshoring really does begin to take hold, then businesses will need to be clear-minded about the nature of their new-look supply chains. Diversity is the watchword here. After all, what's the point of reshoring to reduce risk on one front if risk is added by having a supply chain that is too focused on one or two manufacturing plants?
Evans feels a better path is for companies to diversify their supplier networks, to incorporate vendors in multiple locations, and to "focus on building connections in that network to optimize operations". 
Reshoring production might be a part of the solution, he feels, but adds that concentrating production anywhere - whether it's in the US or Europe - could be a problem. 
Transparency 'a better answer than reshoring'
He feels "flexibility and dynamism" is the key to creating a more resilient and efficient supply chain, and that strengthening the flow of information throughout the supply chain is the solution here. It is this, he says, that brings transparency, and it is transparency that allows the kind of solid decision making that minimises the brand of risk reshoring is designed to minimize.
"It's transparency that unlocks opportunities to reduce costs and improve efficiency, while providing the insight and flexibility needed to adapt to disruptions when they occur," Evans writes.
He feels that the danger of reshoring is that it will be like reinventing the wheel. Why do this, he asks "we just need to strengthen the spokes to get things rolling again?".