Supply Chain Risk Management
Airbus Expanding Local Supply Chain in China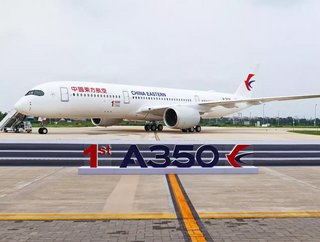 Airbus is building a "vertical integration supply chain" in China, according to reports, strengthening foothold in fastest growing aviation market
The reshaping of Airbus' global supply chain during the pandemic will shift greater focus to China, the world's fastest growing aviation market, according to China Daily.
Yang Xiaoyu, the company's Head of Flyable Procurement in China and East Asia, says Airbus is building a "vertical integration supply chain" to source parts and materials, assemble, and deliver aircraft locally. 
Yang Xiaoyu says the strategy will "lower costs of transportation and raise efficiency", adding that Airbus will also work collaboratively with local Chinese suppliers to bring them "in line with global standards of Airbus", strengthening its ties and capabilities across the territory. 
China on Track to World's Largest Aviation Market 
Further expansion into China is unsurprising given the nation's continuing emergence as the world's economic superpower. It is steadily becoming the world's biggest aviation market, and is a strategic territory to Airbus for deliveries and global production. 
China already accounts for around a quarter of Airbus's global commercial aircraft production, with more than 1,700 Airbus commercial jetliners in service in China as of the end of 2018. Even under the pandemic Airbus delivered 99 plane to China in 2020 and 64 in the first half of 2021, despite on-going disruption and widespread downturn in aviation.
China Central to Airbus Supply Chain Expansion 
The country is also a strategic hotspot in Airbus' global supply chain. The European aerospace giant established a final assembly line (FAL) in Tianjin, a port city in northeastern China, in 2008. It was the first to be built outside the borders of its four founding European countries - France, Germany, Spain and the UK. 
It expanded the site to include a wide-body completion and delivery centre in 2017. In July 2021, the production site delivered the first Airbus A350 to China Eastern Airlines. George Xu, Airbus Executive Vice President and Airbus China CEO, said: "This is a new milestone in the long-term cooperation between China and Airbus, which further demonstrates Airbus' commitment to the country."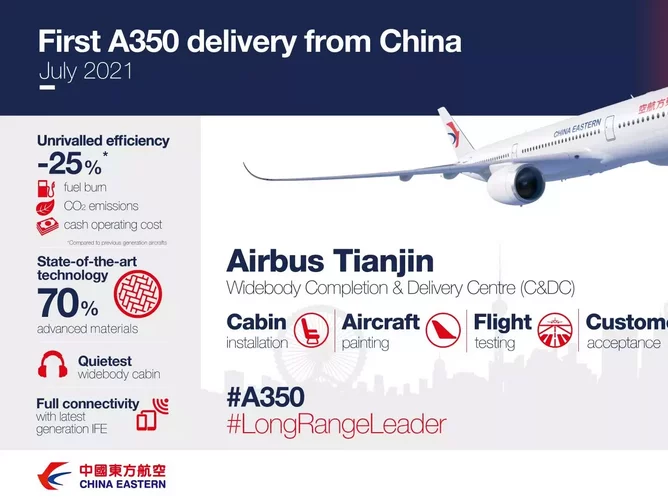 As of the end of June 2021, China Eastern Airlines operated an Airbus fleet of 413 aircraft, including 349 A320 Family aircraft, 55 A330 Family aircraft and nine A350 aircraft.
Today Airbus has around 200 Chinese suppliers. These include a composite manufacturing centre in Harbin, as well as engineering, customer support and training centres located in Beijing. 
Top image: Airbus / The first A350 delivered from China to China Eastern Airlines