Why your supply chain may not be as ethical as you think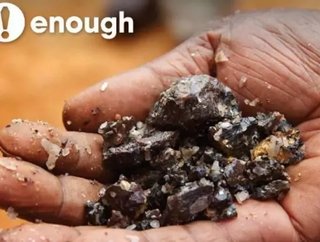 Follow @Ella_Copeland Top companies are becoming more distanced from their supply chain as low overseas costs promote globalisation and services are ou...
Top companies are becoming more distanced from their supply chain as low overseas costs promote globalisation and services are outsourced. As a consequence, it has become harder for businesses to keep track of their purchasing where those at the top have little idea of the conditions at the bottom.
Some key materials used in a range of products around the world are sourced in terrible circumstances, using forced labour. As consumers become aware of these issues, companies are getting involved in 'cleaning up' their supply chains.
Three problem materials which are commonly used in electrical devices are Tin, Tungsten and Tantalum used in tablets and smartphones. Sourced predominantly from Congo, these materials are often mined by exploited men, women and children who suffer at the hands of rebel groups.
The Enough Project
NGO's and consumers have made efforts to raise awareness of the issues surrounding these 'Conflict minerals' in the last few years.  Sasha Lezhnev is part of the Enough Project, a pressure group who hope to end genocide and crimes against humanity. The Enough Project has recently listed companies in accordance to their efforts to address the working conditions of miners.
"We have a baseline of information see if a company is making effort to remove conflict minerals. There are some companies which refuse to engage with us like Nintendo- they don't get a zero because they didn't participate with us, they got a zero because we know they don't participate with the Conflict Free Smelter Program, the Public Private Alliance, the OECD and other efforts to help address the issue," said Lezhnev.
The issue has gained much more momentum in the last few months, following new legislation by the White House in August, which requires manufacturers to disclose where they buy conflict metals from.
"A company can make substantial progress in a year if it really shows some effort. If Tylenol has a fault in its drug that is causing a health problem to consumers then it will make an immediate change to its supply chain, but for these human rights issues when you're really affecting human lives at the end of the supply chain, companies are very slow to react."
"Some companies that have proven that progress is possible like Intel, Apple, Motorola and HP, who have taken stronger lines on the issues; tracking the number of smelters they are using and setting up an audit programme for them. These are things that they were able to do in a year."
Made in a Free World
Slavery Footprint is another NGO aiming to eradicate forced labour. They recently launched Made in a Free World (MIAFW), an initiative to help businesses remove slavery from their supply chains. Unveiled at the Clinton Global Initiative, MIAFW applies accreditation to companies who are tackling slavery in the Supply Chain. This initiative has the backing of the US government, which has pledged to begin cleaning up its own procurement system.
"It's not just a glut of companies but a depth. It's a too early to put a number on as we're still looking at the fact that commodities are dispersed across so many different companies' supply chains. When you get down to the raw materials and commodities level it becomes murky, that's where we're seeing forced labour and slavery. It is very much at the agricultural and the extractives part of the supply chain, but also happens further up in shipping and production," said Justin Dillon, CEO and Founder of Slavery Footprint.
Dillon is working with a number of Fortune 500 companies to develop solutions and methodologies to get rid of slavery in the supply chain and are training analysts to help tackle the problem.
"We've been able to start building an analytical model around the likelihood of forced labour, identifying hot spots based on any company's supply chain. We can then empirically determine the likelihood of forced labour within the products we consume," he said.
Dillon hopes that by applying pressure to the top levels of the supply chain, top companies can encourage reform amongst the lower tiers.
"If a company signed up today, their visibility and understanding is going to increase 200 percent, because most companies just don't know. Their code of conduct will then be changed. Everyone that does business with them will know that removing slavery is a priority and purchasing will have this as part of the value proposition. Past one year we'd like companies to see some of their suppliers with the same accreditation by MIAFW and begin to prefer them over others," he explained.
How to tackle the issue
So long as your procurement system is clear, the initial implementation process is not an expensive one. Similar to an analytics system, all it takes is supply chain visibility to establish areas of concerns. Dillon argues that the risk mitigation process makes the small cost worthwhile.
"We've moved past an era where people shrug their shoulders and say 'well that's globalisation'. We're seeing that whilst the profits from slave labour at the bottom of the supply chain don't reach the top, the risks do. If you do not know where your cotton or tin is coming from, the fact that you don't is worthy of note, investigation and action. It's a lot more expensive to try and explain why you haven't addressed this than it will be to get involved now."
He hopes that eventually implementing ethical procurement practices will pay dividends to the companies that get involved early.
"We'd love to see the market start to shift where those companies who have stepped up to MIAFW have started trading better around preferential purchasing from suppliers that are demonstrating standards. We think when we get that we are going to start seeing the grid of pressure working and start helping people. I hope it will take less than five years to see MIAFW become a standard which is valuable in not only the C2B but also the B2B space."
To get advice on how to make sure your supply chain is ethical, contact the Enough Project or Slavery Footprint.