Simplified EU arms procurement deal a boost for Ukraine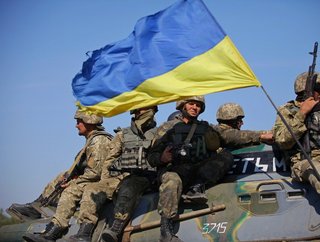 The EDA says its framework contracts with European arms companies eases the procurement process, by bundling everything into a single purchase, allowing for a quick turn-around on tendering. (IMAGE: Ukraine Ministry of Defence)
Fast-tracked European Defence Agency arms procurement process designed to streamline and speed military support for Ukraine
The European Defence Agency (EDA) has rubber-stamped eight framework contracts with European manufacturers for the joint procurement of ammunition for Ukraine.
The deal marks the first time the EDA has jointly procured ammunition in support of Ukraine. The EDA is an intergovernmental platform to support and facilitate the defence-related activity of EU member states.
It says the contracts ease the procurement process by bundling everything into a single purchase, which allows for a quick turn-around on the tendering process. The contracts were signed at EDA's Brussels HQ on September 5.
On Supply Chain Digital, we have explored in depth how retail supply chains in Ukraine are coping in the face of war. Our five-part report makes for depressing, shocking but ultimately uplifting reading.
Procuring military equipment, weapons and munitions for use in Ukraine is also a hugely complicated business
Earlier in the year, Ukraine received battle tanks from Germany and other Western countries, and this prompted a protracted and fierce debate among EU allies.
The German government provided 14 Leopard 2 tanks "as a first step". Many other EU countries, who had bought German-made Leopard 2 tanks for their own defences – including Poland, Finland and Denmark – were keen to follow suit.
However, the re-export of the tanks was conditional on consent from Germany, who holds the export licence. For some time, Germany did not content to this but in the face of sustained and impassioned arguments from certain EU member states, it relented.
Military procurement more fraught than civilian processes
That episode was a reminder that the procurement of military equipment is more political and bureaucratic than procurement in a civilian context.
This is why the EDA's framework contracts are significant, because they simplify and speed the military procurement process. It is part of the EU's "three-track" approach to supplying Ukraine militarily, by:
Addressing shortfalls of military equipment and munitions
Boost ammunition production across the EU bloc
Supporting the replenishment of member states' own stocks
To this end the European Peace Facility (EPF) was funded to the tune of €1 billion, to allow the EU to reimburse member states for ground-to-ground and artillery ammunition, as well as missiles donated to Ukraine from existing stocks or from the reprioritisation of existing orders.
The EPF is an off-budget instrument aimed at enhancing the EU's ability to prevent conflicts, build peace, and strengthen international security.
EDA Head Josep Borrell said: "We are taking another step forward in our three-track ammunition initiative. Member States can now pass orders within eight framework contracts. Time is of the essence.
"Putin does not show any sign of letting up in his aggression against the Ukrainian people. This is why our military support for Ukraine's defence must continue."
EU arms procurement deal helping arm Ukraine
EDA Chief Executive Jiří Šedivý said: "The signing of these framework contracts between EDA and the European defence industry shows our capacity to swiftly secure the best deals possible for EU Member States and Norway.
"We are now offering viable opportunities for Member States to place orders with industry through EDA, either to support Ukraine or to replenish their own national stocks. It is now up to Member States to make full use of these options," he said.
To date, EDA has negotiated and signed the multiple framework contracts for the procurement of the 155mm ammunition round, also known as all-up-round, for the Panzerhaubitze 2000, as well as for the projectile and fuse components of ammunition for the Krab howitzer system.
More framework contracts will soon materialise for other howitzer systems.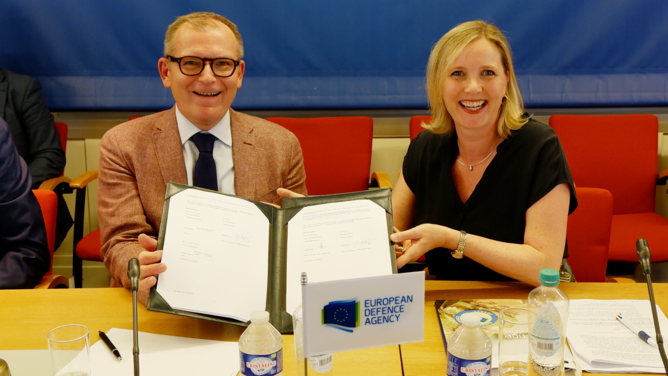 The EDA signs framework contracts for the procurement of ammunition in support of Ukraine.