SAP Ariba - why drones have a key role to play in the future of procurement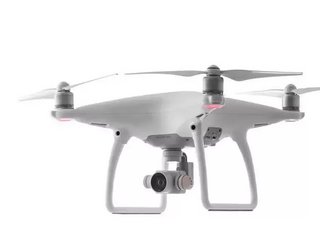 The drone explosion seems to have been on the cusp for a while now, and although the adoption of the technology has increased slightly over the past few...
The drone explosion seems to have been on the cusp for a while now, and although the adoption of the technology has increased slightly over the past few years, it hasn't quite happened in the exponential fashion that many industry insiders were expecting. One such individual is Shivani Govil, VP, AI and Cognitive Products at SAP Ariba, who has two decades' worth of experience in the enterprise software sector, including working extensively with drones as well as mobile applications.
Speaking to Supply Chain Digital from her base in San Francisco's Bay Area in the US, Govil expresses genuine surprise that the adoption of drones by procurement organisations hasn't happened more widely up until this point, but says it's still something that's "coming down the pipeline".
"When I was working very, very actively on this topic a couple of years ago, I actually thought that we would see drones proliferating all over the place," she says. "I have to admit it hasn't taken off as quickly as I expected it to. I think there is a lot of interest in what drones can do, if you think about how they are affecting the industry; there are a lot of projects going on and there are some companies which are adopting them on a much bigger scale, but I would say that in the mainstream it's probably not as prolific.
READ THE FULL APRIL EDITION OF SUPPLY CHAIN DIGITAL HERE
"If I talk to the CPOs today they don't come to me saying 'drones is a really important space, what do you think is going to happen there?' I think there are forward-thinking CPOs that are starting to look at how drones impact them, and how they can have a more important role in the space – and they are exploring the actual procurement of drones and the impacts that they can have on things like shipping, logistics and delivery.
"I do see a lot of work happening in this space. I see both the investments that companies and the drone manufacturers are putting in, as well as the beginnings of momentum building up from a consumer perspective. I would say in the next five to10 years we will see this much more broadly adopted and in play across procurement."
Govil is well-versed in the various ways that drones are already helping companies in the supply chain, and even more potential uses yet to be explored. One common example of drone usage for companies is around tracking inventory. Govil wonders if there is a way that the drones can send signals to procurement applications to provide updates and alerts as certain supplies run low. This kind of utilisation would involve integration with the drones to be able to get those kinds of demand signals before carrying out the ordering processes.
Govil also believes there is great potential in the usage of drones for monitoring the health of oil and gas pipelines or railroad tracks – being able to understand when parts are going to fail and assessing that before ordering the required component from the procurement system. She also wonders how the usage of drones for delivery could potentially overlap into companies' cost benefit analyses when choosing suppliers. Could a full-scale integration see even more of these processes, even when it comes to ascertaining where there is value to be had?
Overall, there are a lot of questions – some which cannot be answered until the technology develops further. Does Govil feel that this uncertainty could be partly to blame for the technology not being more widely embraced within the industry?
"There needs to be the ROI to demonstrate why this is better," asserts Govil. "I think some people are still deliberating on the ROI behind it. Then there is the consideration of how this is going to be regulated. We know what's there today, but how is that going to change in the future? It's going to become more permissive. Is it going to become a little bit more restricted? I think that's another piece of it.
"Then you have to make sure that it's a scalable technology. When I talk about scalability, for mass adoption you really need a complete end-to-end solution. The larger companies have their own IT team and they can develop custom solutions, but the smaller companies really want something that works off the bat, and which has that entire end-to-end connectivity across that solution.
"I think those are some of the pieces that companies are looking at, and I don't think we're at a point where we can say we have those pieces completely nailed and figured out. I see some areas where there has been a wider-spread adoption, but as I look at the mainstream I can see people experimenting with it. I can see innovation groups working on it, but it's not necessarily a fully-fledged deployment across the entire business.
"There are a few things that I think need to happen today which would make this technology much more quickly and greatly adopted, especially for enterprise adoption. Having a complete solution is really important, not just the hardware piece of it, not just the data collection piece of it, but also the application piece of it. Then there is the question of how drones tie into existing applications."
Incrementally, all of these things will change and move forward as drone manufacturers and organisations use the technology to collaborate on projects attempting to innovate on all of these fronts. Perhaps there is capability to physically adapt the drones to make them more useful to companies, or different approaches to deployment which have yet to be explored. There can be no doubt though, that drones could potentially provide solutions to some of the logistical problems procurement companies are presented with.
Govil believes that the wider prevalence and popularity of technologies such as artificial intelligence and the application of machine learning can also help to supplement and accelerate drone usage within the supply chain. "With procurement at the forefront of ordering or supplying, I think it would be a very good idea for drone manufacturers to look at how they can co-innovate with procurement, and build joint solutions that in the end benefit the enterprise as a whole and accelerate adoption," Govil asserts.
"I actually think that AI and machine learning can help accelerate the adoption of drones. If you think about it, one of the big things drones do is collect lots of data. There is so much data being collected, and for any good AI or machine learning solution to work effectively, you need access to the data.
"I think the AI technologies really help support the value that the data you collect from the drones can deliver. For example, you have your oil and gas pipeline, the drones can be used to monitor the health of the pipeline and they're collecting data based on visual images on what that pipeline looks like at different stages.
"As you now have the data, you can apply advanced analytics and AI machine learning type technologies to predict when a failure might happen even before it happens. Then, in turn, trigger a return to repair it so you've prevented it before the downtime actually happens. That way you eliminate the downtime, which results in cost savings for the business. That's one example.
"The other one we talked about, on the warehouse side, is being able to sort through all the images collected and being able to analyse the data and start thinking through when you automatically replenish. To me they actually come together very well, because the drones are collecting large amounts of data, and the AI machine learning algorithms can help unlock the value of that data to deliver towards that business outcome.
"The other area which I also think would be also very interesting for future technology is 3D printing. 3D printing by its very nature based around having local suppliers, having things printed locally, and then having that tied in with the drones for delivery. To me, that's another technology that I think would have a huge impact on drone adoption."