RTITB expands into Oman with accredited forklift organisation TATI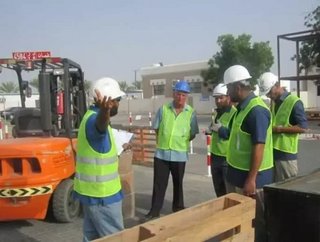 Follow @SupplyChainD on Twitter.Technical and Administrative Training Institute (TATI) is the first organisation in Oman to become accredited to provide...
Follow @SupplyChainD on Twitter.
Technical and Administrative Training Institute (TATI) is the first organisation in Oman to become accredited to provide RTITB workplace transport training.
As one of the largest private training organisations in the Sultanate of Oman, TATI is approved to deliver RTITB training to over half of the major oil companies including Shell, BP, and Oman Oil. Training is very important in Oman and the Middle East where the oil industry is the biggest in the market.
TATI has been providing training qualifications including technical national vocation qualifications, business related health and safety, driver training, lift truck operator training and plant equipment operator training since 1993.
RTITB accreditation ensures that companies provide training that meets the high safety standards set by RTITB. Recognised internationally, RTITB accreditation enables TATI to prove it meets these high standards, adding credibility to the already influential organisation.
"The RTITB courses are very detailed and have rigorous requirements" said Mani Sankar, General Manager at TATI. "They definitely have value and are not like other courses, particularly in the practical elements and demonstrations."
Accredited training is a relatively new concept to organisations of Oman. The quality standards are set by the oil companies and recent years have seen expectations in terms of training on the rise. There is now legislation in place to help regulate training and check forklift licenses, so accreditation has become a vital requirement of the Oman oil industry.
Employees with RTITB accredited training are automatically listed on the RTITB database and can then use this international certificate to prove their skills when seeking work in other companies or countries.
On top of providing credibility to TATI and its employees, the recent RTITB accreditation has encouraged the company to build a new training facility and improve safety conditions for employees. TATI instructors and trainees now have a better knowledge of safety procedures and specific forklift truck features, which has improved the safety of employees in TATI's workplace and could help to increase profit margins due to a reduction in damage to stock and equipment.
As the first organisation in Oman to become RTITB accredited, TATI has set the high standard for safety and skill based training within the Oman oil industry. This rise in requirements for credibility in Oman is a good sign for the employees who work in the ever growing oil industry, and will ensure that forklift truck safety is considered on an international level.
For more information about TATI, visit www.tatioman.com.
RTITB offers accreditation and training courses for operators, supervisors and managers through its network of international training organisations.
The company accredits 600 sites across the UK and Ireland for the delivery of materials handling equipment training and manages the largest Driver CPC Periodic Training consortium in the UK. RTITB also operates dedicated services for transport, warehousing and logistics instructors including a training academy, online shop and professional register.
For more information about RTITB please visit www.rtitb.co.uk