Procurement teams lagging behind on tech, says Probrand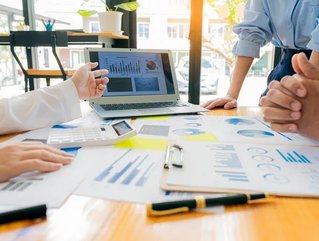 Procurement faces a volatile climate and this has left IT buyers in need of solutions that can help them navigate choppy waters.
Ian Nethercot of IT procurement company Probrand on why for procurement systems it's essential that IT buyers do not get left behind
All businesses have been affected by the political, economic and social disruptions of recent years. From Brexit to the pandemic, seismic global events have tested the operational resilience of organisations, their workforces and supply chains.
Procurement, in particular, has been hard hit by a series of unprecedented challenges – from production delays and logistical log jams to inflationary pressures and exchange rate fluctuations. This volatile climate has left IT buyers in need of solutions that can help them navigate choppy waters.
As explained by Hewlett Packard Enterprise, IT procurement is a group of processes for the purchase and implementation of IT in accordance with organisation strategy. An organisation that uses IT must have a way to procure the IT products and services it needs to operate.
"Procuring IT is – or should be – about more than just buying IT products and services," explains HPE. "IT procurement serves a vital role in the realisation of strategic and operational goals. Given the centrality of IT to business success and overall transformation, IT procurement should engage key stakeholders from business, finance, and IT itself. The process has to identify what IT can serve the business and then follow through with the best possible IT investment decisions."
To navigate these challenges, digital procurement systems are providing organisations with answers. But as Ian Nethercot, a supply chain director at IT procurement company Probrand, explains, a study by the company has found that very few organisations are making headway when it comes to digitalisation.
"Research produced by Probrand, in collaboration with CIPS, has revealed that fewer than one in five (18%) believe they have reached a point of full digitalisation," he says. "Furthermore, 28% say they are yet to make plans to move in this direction."
Inefficient and ineffective systems
Probrand's study revealed that most IT buyers feel held back by a lack of digitalisation – with almost two-thirds (63%) still relying on manual systems to complete standard tasks, such as placing orders.
"The results also showed that a quarter are spending the equivalent of one day each week just researching IT purchases – this includes comparing equipment specifications, checking prices and stock availability," Nethercot adds. "Liaising with suppliers during the ordering process was also revealed as a huge drain on buyers' time – with 71% saying they spend a significant amount of time emailing and 70% saying the same effort was being spent on calls."
But these weren't the only duties taking up a lot of time.
"The vast majority," Nethercot explains, "said they were also burdened by tasks such as tracking orders, checking prices and stock, processing orders, and chasing returns and errors. Even straightforward tasks, like raising a PO number, are taking three days or more for most buyers – almost a fifth said this was taking longer than a week.
"Standing still on digitalisation will undoubtedly leave businesses at a competitive disadvantage. Bogged down by unnecessary admin, a lack of access to live data is leaving buyers struggling to buy at the best times and gain value from every purchase. As a result, they also have less time to spend building strategic relationships with the suppliers that can help them better meet the needs of their organisation," he comments. "So why are procurement professionals still working in this manual way?"
The barriers to IT procurement digitalisation
As part of its study, Probrand asked IT buyers what their biggest obstacles to digitalisation are. Almost two-thirds listed 'budget' as a problem, while other issues included dealing with 'legacy systems' and 'winning the support of management'.
"Interestingly," Nethercot adds, "more than one in ten (12%) listed being 'unsure how to write a business case for digitalisation' as a challenge. Given that digital transformation in procurement shouldn't incur major costs and typically delivers a significant return on investment (ROI), this is an issue that needs addressing.
"What was clear from the research, however, was that there is a desire among procurement professionals to achieve digitalisation – with 74% saying they are either working on their digital transformation plans, are part way through implementing it or are looking to move in this direction."
What's clear is that, given time, digitalisation will become the norm. That must be a concern for those organisations not currently taking steps in this direction.
"When it comes to recruiting and retaining the best procurement talent, a failure to digitalise will impact an organisation's ability to find and keep the best people," Nethercot asserts. "This will affect the quality of the workforce and impact long-term business performance.
What's more, as we continue to experience a period of global uncertainty and sustained periods of supply chain disruption, organisations will need tools in place to manage their suppliers. By empowering procurement teams with the technology and data, organisations can better manage risk by making informed purchasing decisions.
"A failure to digitalise procurement processes will ultimately hurt the overall businesses in several other ways too – through higher costs, slower deployment of equipment, employee dissatisfaction and a competitive disadvantage."
Don't get left behind
As Nethercot describes, it is concerning, therefore, that almost a quarter are still not moving in this direction. Especially, when it is possible to do this without heavy investment.
"For example, by working with suppliers that offer live supply chain data, procurement teams can gain ready access to the information they need to make smart decisions and buy at the best times. By integrating these information streams within their own systems, they can also start to enable digital workflow and approval systems that will allow them to act faster.
"None of the barriers to digitalisation are insurmountable, yet four out of five organisations still say they are yet to fully do so," Nethercot concludes. "Those who have a clear vision and are putting plans in place will get there sooner, however – and they will enable their organisation to act more efficiently and effectively in the process."