Procurement & Supply Chain Live: Dr Soroosh Saghiri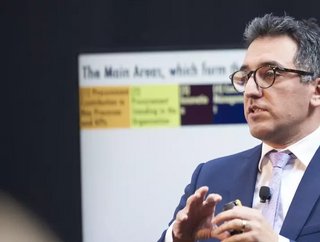 Dr Soroosh Saghiri Senior Lecturer & Course Director at Cranfield School of Management discusses supply management new complexities, uncertainties & norms
Joining Procurement & Supply Chain Live for day two, Dr Soroosh Saghiri Senior Lecturer & Course Director at Cranfield School of Management took to the Procurement and Supply Chain stage to discuss supply management with a focus on new complexities, new uncertainties and new norms.
Over the last 10 years, Cranfield School of Management has been conducting with a primary focus on procurement. Speaking with executives in the industry, Saghiri explains that it is clear to see procurement is a growing area beyond typical supply chain activities. 
Speaking to leaders in the areas of procurement, Cranfield School of Management have been asking their thoughts on the future of procurement as a profession, function and process over the last 10 years, seeing how the industry has progressed and changed since those first predictions back in 2011. 
During his keynote, Saghiri details the megatrends influencing procurement and supply chain management including ecological, demographic, technology and economic trends. "All of these are happening in some sort of uncertainty. In any type of business, with procurement processes in the middle, businesses are engaged in lots of uncertainty. We can not expect supply and demand that easily," says Saghiri.
Continuing his keynote, Saghiri not only further breaks down complexities in the supply chain into seven key areas - customer expectation; the complexity of data or information; processes; products; the whole organisation; the range of products and/or activities; and suppliers - but the environments where supply chain and procurement complexities live.
Saghiri also discussed findings from Cranfield School of Management's research which identified the main areas which form the future of supply chain management:
Procurement contribution to key processes and KPIs 
Procurement standing in the organisation
Innovation
Contract management
Skills and talent management
Supplier evaluation, selection and development
Supplier relationship management
Information sharing/e-business
Sourcing/supply-based design
Saghiri concluded his keynote by discussing forward-looking trends, opportunities and challenges in procurement including: relationship management, risk management, material scarcity, strategic sourcing and supply management, and environmental performance.
Watch below Dr Soroosh Saghiri's full keynote speech: