M&As can help turbocharge procurement , says McKinsey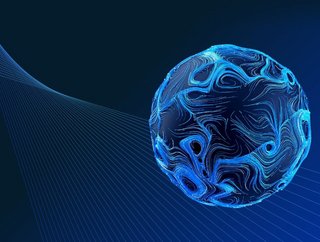 The cover of McKinsey's report into how M&As can boost procurement. Successful organisations, it says, "seize the integration opportunity to push procurement towards functional maturity within two years of deal closure".
McKinsey looks into how mergers and acquisitions can be a catalyst for effective procurement transformations
A new McKinsey report says mergers and acquisitions (M&A) can help turn the procurement function, "into an innovation engine and strategic partner to business leaders".
McKinsey says procurement typically contributes "a third or more of the total synergy value in an integration", most of which , it says, "can be captured within 12 months of deal close".
It says successful organisations seize the integration opportunity to "push procurement towards functional maturity within two years of deal closure".
From its clients' experiences, McKinsey says such early measures can "potentially double the value of procurement synergies and establish the groundwork for a forward-thinking procurement organisation".
The 'spectrum of procurement maturity'
McKinsey says that to understand the potential of transforming the procurement function during an integration, "corporate leaders need to first evaluate the maturity of the legacy procurement organisations.
"Functional maturity can be thought of as a spectrum, spanning five stages that range from cost-focused order taking at one end to a cross-functional, digitally enabled innovation engine at the other."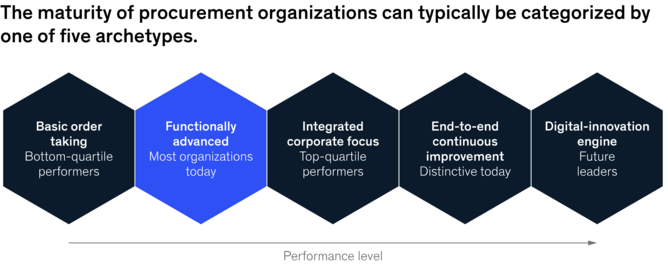 Source: McKinsey
On the maturity landscape, McKinsey offers the following:​​​​​​​
Basic order taking
In some organisations, procurement operates primarily as a back-office support function. Spending on large categories is often siloed or managed by individual business units, while small or indirect categories may receive little or no central management.
Procurement professionals in these organisations typically focus on optimising purchase price as well as providing basic service levels and efficient execution.
Processes are largely manual, with few controls and limited visibility into spending. These organisations typically rank in the bottom quartile of procurement value delivery.
Functionally advanced
In this archetype, which characterises most large companies today, the bulk of spending is managed centrally. Category strategies (including some demand and specification management) are refreshed regularly, and the organisation uses standard processes for sourcing (such as requests for proposals and negotiations) in collaboration with other functions.

Digital tools may automate some basic reporting on metrics such as spend and unit price by supplier, but more sophisticated analytics are performed manually.
Integrated corporate focus
In top-quartile procurement organisations, the function is tightly integrated with all other business functions. It acts as a strategic partner, going beyond price to provide business leaders with a total cost of ownership view, and creates a robust set of demand and process controls around specs, spend-limit approvals, and other procurement elements.

As a steward of all spending, procurement applies sophisticated systems and compliance processes to maximise cost efficiency.
End-to-end continuous improvement
Top performers go further, working directly with vendors and customers to uncover new sources of value. For example, procurement may use its advanced analytics capabilities to help suppliers identify new formulations or manufacturing efficiencies that deliver benefits both can share.

Procurement professionals may also work directly with customers to better understand their needs and use that input to influence corporate decisions on product design, service levels, and pricing. The function is a consistent source of innovation, making it a draw for top talent.
Digital innovation engine
Cutting-edge procurement organisations go further still, leveraging digital technologies to optimise the full value chain. These organisations lead the pack in the use of predictive analytics and forecasting to enable the business, its suppliers, and its customers to take a proactive approach to value creation and risk management.

Whereas most organisations are opportunistic about identifying interventions or improvements to the procurement process, organisations in this category employ formal mechanisms such as annual customer surveys and quarterly ideation sessions with suppliers to generate insights and innovations.

In these organisations, procurement becomes the training ground for the future leaders of the company.
"As procurement organisations move up the maturity scale, their ability to deliver value to the business, both financially and strategically, grows," the report says.