Highland Spring Group invests in demand planning with Infor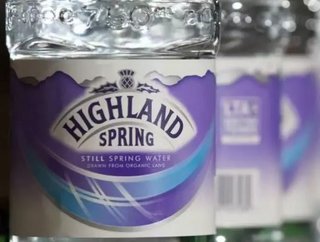 Follow @SamJermy and @SupplyChainD on Twitter. Infor, the industry cloud company, today announced that the UKs largest supplier and producer of natur...
Follow @SamJermy and @SupplyChainD on Twitter.
Infor, the industry cloud company, today announced that the UK's largest supplier and producer of naturally sourced bottled water, the Highland Spring Group, has invested in Infor Demand Planning. Currently planned to be deployed across four sites in the UK, the application is expected to be used to help Highland Spring achieve a double-digit improvement in demand forecast accuracy for brands including Highland Spring and Speyside Glenlivet, by helping Highland Spring enhance customer service and reduce costs.
As part of a business improvement program, the Highland Spring Group has developed a comprehensive sales and operations planning (S&OP) strategy to boost customer service throughout its retail, trade and export markets. Infor Demand Planning can help Highland Spring manage certain customer service improvements outlined within this strategy, for example helping to ensure the right stock is held in the right location at the right time to meet demand.
The new software can help support this initiative by helping Highland Spring provide more accurate demand forecasts as well as helping with facilitation of better resource management and improved budgeting accuracy. The new Infor application can help the Highland Spring Group move to a 24-month demand planning cycle and factor in various promotions designed to boost demand for its products.
Following a review of demand planning solutions, Infor Demand Planning was selected as it offered the scalability required to enable the Highland Spring Group to help improve customer service as it continues to grow. The Group currently uses Infor CloudSuite Industrial (SyteLine).
Chris Hatcher, Head of Supply Chain, the Highland Spring Group, said: "According to Zenith International, the domestic UK market for bottled water is forecast to grow over 20 percent in the next three years.
"As part of our strategy to capitalise on this growth by providing naturally sourced, bottled water in line with consumer demand, we have invested in a range of tools to improve our customer service. Against a baseline of our current performance, we anticipate at least 98.5 percent customer service satisfaction across our key accounts, as well as double digit improvement in our demand forecast accuracy."
Infor builds beautiful business applications with last mile functionality and scientific insights for select industries delivered as a cloud service. With 13,000 employees and customers in more than 200 countries and territories, Infor builds software that automates critical processes for industries including healthcare, manufacturing, fashion, wholesale distribution, hospitality, retail, and public sector. Customers also include 18 out of the top 20 aerospace companies.
Nathalie Regniers, Industry and Solution Strategy Director at Infor, said: "For manufacturers such as the Highland Spring Group, demand planning is a key lever for managing the pressures of growth.
"Improved accuracy of demand and better budgeting are critical within the competitive market that the Highland Spring Group operates. That necessitates systems that are fast, agile, easy to use and above all, can support accurate, automated processes which can scale to support customers' projected growth as well as their current position." 
Headquartered in New York City, Infor is home to one of the largest creative agencies in Manhattan, Hook & Loop, focused solely on user experience design. Infor deploys its applications primarily on the Amazon Web Services cloud and open source platforms.
Highland Spring Group, parent company of the Highland Spring brand, is the UK's largest supplier and producer of naturally sourced bottled water. One in every five litres of plain bottled water consumed in the UK is produced by Highland Spring Group
Bottling 460 million litres of water a year, the Highland Spring Group produces brands including Highland Spring, Speyside Glenlivet, Hydr8 and a range of private label flavoured and unflavoured waters for some of the UK's major supermarkets and foodservice retailers
Headquartered in Blackford, Perthshire, the Group oversees four bottling plants in Scotland and Wales and employs over 400 staff. It has a current production capacity of over 700 million litres of water a year and has an available resource in excess of 2.2 billion litres a year.
To learn more about Infor, please visit www.infor.com.