Exclusive Video: The Supplier Diversity Forum P&SC LIVE
David Latten (Logitech), David Cho (UMass), & Melissa Warneke (Aon) discuss supplier diversity at Procurement & Supply Chain LIVE New York 2023
Highly praised as an exceptionally interactive virtual experience, Procurement & Supply Chain LIVE New York offered those in the industry valuable insights and thought leadership in the form of keynotes, forums, fireside chats, networking and more.
The Supplier Diversity Forum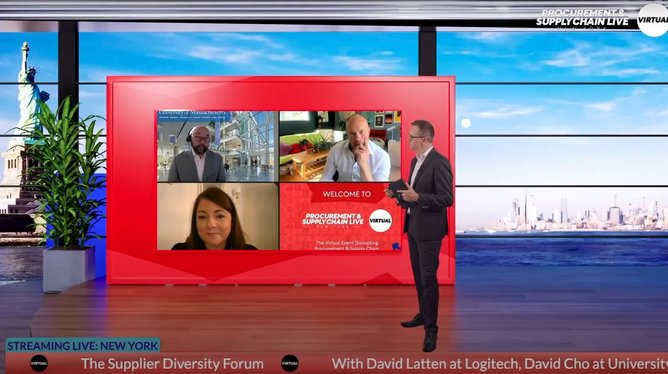 The Supplier Diversity Forum - David Latten, David Cho, Melissa Warneke
Taking to the virtual stage, David Latten (Logitech), David Cho (UMass), & Melissa Warneke (Aon) - at Procurement & Supply Chain LIVE New York 2023 - discussed supplier diversity.
David Latten: Head of Global Indirect Procurement and Supplier Diversity and Equity, Latten has been in the procurement industry for 15 years, nine of which he has held managerial and executive roles at Logitech.
David Cho: CPO and Managing Director of the University of Massachusetts (UMass), Cho's career spans more than 25 years. He has held his current position at UMass since 2019.
Melissa Warneke: Vice President and Head of Sustainable Procurement, Warneke has been working in procurement for more than 20 years. She joined Aon in 2011.
During the forum, the three discussed the inspiration behind their ambitions to implement supplier diversity programs; the rise in the importance of supplier diversity; best practices to gain better insights into suppliers beyond Tier One; the challenges to overcome along the procurement diversity journey; and looking to the future.
"There are many myths around supply diversity that need to be dispelled and we can all work together to do this. If we can dispel some of these myths, that will immediately increase the sort of opportunities" - Latten.
To watch any of our other speakers from Procurement & Supply Chain LIVE, click here.
To find out more about Procurement & Supply Chain LIVE, Click here.
To take a look at our previous events, click here.
******
For more insights into the world of supply chain read the latest edition of Supply Chain Digital and be sure to follow us on LinkedIn & Twitter.
Other magazines that may be of interest: Procurement Magazine , Manufacturing Digital
******
BizClik is a global provider of B2B digital media platforms, for leaders across: Sustainability; Procurement & Supply Chain; Technology & AI; Cyber; FinTech & InsurTech; Manufacturing; Mining; Energy; EV, Construction; Healthcare; and Food. Based in London, Dubai, and New York, Bizclik offers services including content creation, advertising & sponsorship solutions, webinars & events.