Exclusive video: P&SC LIVE - procurement in construction
Carol Anne Williams, Head of Procurement at Laing O'Rourke, spoke at Procurement & Supply Chain LIVE 2023, about procurement strategies in construction
As the world's fastest-growing procurement and supply chain event, Procurement & Supply Chain LIVE 2023 was a disruptive learning and networking event that showcased some of the industry's top speakers across innovation, thought leadership and strategy.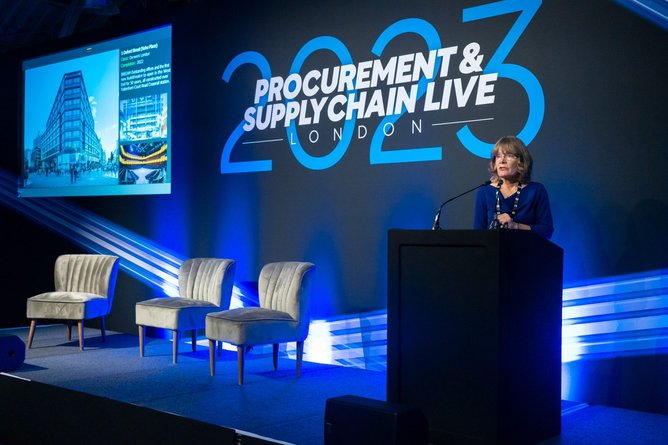 Carol Anne Williams, Head of Procurement, Laing O'Rourke
Carol Anne Williams is Head of Procurement at construction company Laing O'Rourke. Williams shared with her audience the successes and challenges of procurement strategies within construction.
She told of Laing O'Rourke's modern approach to construction, and its use of precision engineering and factory-based construction to enhance safety and quality. Williams also spoke of how it creates components in controlled environments, to reduce on-site variability.
"We're taking things into a factory environment for precision engineering, reducing on-site variability and enhancing safety," said Williams
Importance of supply chain in construction
She added: "About 60-70% of what we do goes through the supply chain, and changes like the Sea Building Safety Act are driving focus on product provenance and competence. We do not use a 'one-size-fits-all' approach. It is important to align procurement strategies with corporate strategies, and tailor them to specific sectors and projects."
Williams also stressed the significance of considering diverse stakeholder perspectives, including supply chain, clients and project teams.
"There is no magic fairy dust," she said. "Every day is different, and we need to tailor procurement strategies to specific sectors and projects."
------
To watch any of our other speakers from Procurement & Supply Chain LIVE 2023, click here.
Don't forget to register for our future events including Manufacturing LIVE 2023, Procurement & Supply Chain LIVE Dubai 2024 & Procurement & Supply Chain LIVE London 2024.
Celebrating exemplary achievements in the fields of procurement and supply chain management, the Supply Chain AWARDS - debuting in 2024 - acknowledges companies, professionals, and projects that demonstrate exceptional performance, innovation, and strategic thinking. Click here, to find out how you can enter.
******
For more insights into the world of supply chain read the latest edition of Supply Chain Digital and be sure to follow us on LinkedIn & Twitter.
Other magazines that may be of interest: Procurement Magazine, Manufacturing Digital
******
BizClik is a global provider of B2B digital media platforms, for leaders across: Sustainability; Procurement & Supply Chain; Technology & AI; Cyber; FinTech & InsurTech; Manufacturing; Mining; Energy; EV, Construction; Healthcare; and Food. Based in London, Dubai, and New York, Bizclik offers services including content creation, advertising & sponsorship solutions, webinars & events.