Drought and the Supply Chain: Grains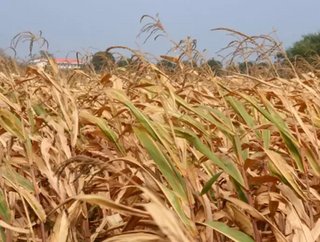 According to the U.S. Department of Agriculture, the drought of summer 2012 is "the most serious situation we've had in probably 25 years,&quo...
According to the U.S. Department of Agriculture, the drought of summer 2012 is "the most serious situation we've had in probably 25 years," said Secretary of Agriculture Tom Vilsack. In a press conference, Vilsack said 78 percent of corn crops are in areas that are drought impacted; 77 percent of soybeans are. The resulting numbers for production are staggering: 38 percent of United States corn and 30 percent of soybeans have been rated poor to very poor, and in 25 states.
Corn and beans represent food staples for the majority of U.S. livestock. Aside from the other implications the drought has on livestock (to be explored further in future daily stories about the drought), one of the most crucial issues is farmers cannot feed their livestock. The cost for buying feed elsewhere has skyrocketed - a 38-percent increase since June 1 to $7.88 per bushel of corn.
The U.S. government has passed some regulation to help accelerate the time it takes to declare a county disaster-stricken, and has offered low loan interest rates for farmers who can explore new land for grazing. Also, several areas usually protected by the U.S. Conservation Reserve program have been opened up for "emergency haying and grazing," Vilsack said.
Corn farmer Derek Mullin of Mount Pleasant, Iowa, told CNN that he expects to yield just 75 percent of the corn he regularly does. Like any other natural disaster, this drought has affected farmers regardless of their efforts. "... when mother nature works against you, then it all seems like it was for nothing," Mullin said in his interview with CNN.
Up the supply chain, the drought means higher prices "especially for corn," that is used as food stock for animals. " However, most critics are crediting the current jump in corn price to a lack of materials and supplies, not with a lack of corn supply, which hasn't truly reached the stores or buyers - yet.
Amanda Hamilton, director of sourcing operations at group purchasing Novation, encourages supply chain managers to think about managing supply budgets rather than budgeting. Initial spikes in prices will be more related to fears from consumers than from actual inflation.  "I will say find room. Find room for next year of comfort to be able to take from other areas to move over to this area," she said.
The extension of growing season (although many farmers cut crops as soon as record highs promised stunted growth and even ruin) and the genetics of hybrid-engineered corn stalks mean that more corn could still survive.