Briggs Equipment wins GBP2 million contract with major automotive supplier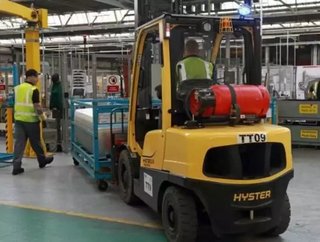 Follow @SamJermy and @SupplyChainD on Twitter. Stadco, a major Tier One supplier to the automotive industry, has chosen Briggs Equipment as its mater...
Follow @SamJermy and @SupplyChainD on Twitter.
Stadco, a major Tier One supplier to the automotive industry, has chosen Briggs Equipment as its materials handling partner. The new contract sees the company taking delivery of a fleet of Hyster forklift trucks with a capital value of £2 million.
Stadco is an industry leader in the supply of Body-In-White products and services to the automotive industry. It is recognised as providing world-class capability, particularly in the manufacture of aluminium products - now widely used to save weight and improve fuel economy. Across four sites in the UK it employs around 1,000 people, producing some of the most technically challenging panels and assemblies on a vehicle for customers such as Jaguar, Land Rover, Ford, GM and BMW.
Stadco's new materials handling fleet comprises 50+ Hyster LPG counterbalance forklift trucks, which are a mix of 3.0, 5.0 and 7.0 tonne standard and compact Spacesaver trucks. Hyster is renowned for delivering a winning combination of quality, reliability and performance, while customers also benefit from the brand's low cost of ownership. Using engine technology which gives a fuel saving of up to 20 per cent without adversely impacting on productivity, the Hyster machines will help to reduce Stadco's operating costs, while also contributing to a reduction in the company's carbon footprint.
Hyster's Spacesaver truck benefits from a powerful new engine plus a new mast design, which allows for greater mast lowering speeds and a larger window to optimise the driver's 180 degree panoramic field of vision. Meanwhile, its more compact frame saves valuable space that can be used for extra storage in applications such as wood, paper, manufacturing and logistics. Overall, these improvements contribute to better performance and reliability when working in tight warehouse spaces.
Briggs Equipment won the business following a complex and detailed competitive tender process over several months. The new equipment has been acquired on a five-year lease incorporating full service and maintenance. The deal includes Briggs Equipment's intelligent fleet management system, which will enable Stadco to take greater control of its new materials handling fleet.
The Hyster forklifts will be used to load product, which is stacked in delivery stillages, onto lorries for transport to customer assembly plants. They will be deployed across Stadco's UK manufacturing facilities in Telford, Shrewsbury, Castle Bromwich and Powys.
Stadco was impressed with the total solution offered by Briggs Equipment, which provides significant financial flexibility. A commitment to service support was a critical factor in Stadco's decision-making process. In particular, it values Briggs Equipment's ability to deploy one of its team of highly skilled engineers to site within three hours of receiving a call to report a breakdown or request assistance.
A further influencer was BE Portal, Briggs Equipment's innovative web-based reporting tool. BE Portal is a transparent fleet management system that enables customers to review KPI's, providing 24/7 access to up to date, reliable information. It will also enable Stadco to monitor service performance on a continual basis.
Dinos Andreou, Sales and Marketing Director at Stadco, said: "Hyster has earned a reputation for excellent build quality and reliability, so it should suit our exacting demands.
"Briggs Equipment took the time to understand our requirements and proffered a complete materials handling package that, in a nutshell, should give us everything we wanted."
Paul Robinson, Hyster Regional Sales Executive at Briggs Equipment, said: "This is an important new business win for us and we look forward to working in partnership with Stadco and supporting its market-leading manufacturing operation.
"Contract flexibility was important to Stadco and we will review the contract regularly to ensure it continues to meet the company's needs. With our fleet management tool fitted to the machines, Stadco will find it easier to control driver access and meet its health and safety responsibilities which, in turn, will contribute to a culture of safe working practices to help drive down any damage costs."
Briggs Equipment UK Ltd is the world's largest global distributor of Hyster and Yale Europe Materials Handling equipment. Briggs products give you outstanding quality, productivity and reliability to ensure maximum uptime for your business; from a global manufacturer. From outright purchase, lease or short-term hire, Briggs delivers unique flexibility and contracts to suit your business needs. Our dedicated account managers, expert back-office support and 600 multi-skilled engineers all have the same goal of giving you an unrivalled customer experience and adding value through unique, tailored solutions.