BAE Scoop Top Supply Chain Award For F-35 Collaboration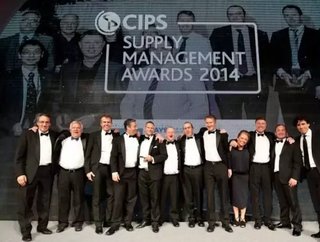 Follow @BAESystemsplc, @SamJermy and @SupplyChainD on Twitter.BAE Systems has been named as the International Procurement Team of the Year by the Charte...
Follow @BAESystemsplc, @SamJermy and @SupplyChainD on Twitter.
BAE Systems has been named as the International Procurement Team of the Year by the Chartered Institute of Purchasing and Supply (CIPS) at the annual Supply Chain Management Awards.
The award was handed out for the team's role in helping Melbourne-based Marand, a company better known for automated production systems and aerospace tooling manufacture, become the only other company in the world alongside BAE Systems to build vertical tails for the F-35 Lightning II aircraft.

The awards were selected by a judging panel headed by senior procurement directors from blue-chip organisations including ITV, Network Rail and Sainsbury's.

BAE Systems delivers the aft fuselage, horizontal and vertical tails, for the F-35 as part of a consortium led by prime contractor, US-based Lockheed Martin.

Gary Burns, Head of Procurement and Supply Chain for the F-35 programme at BAE Systems, said the work undertaken by the award-winning BAE Systems and Marand team had helped deliver £8.3m savings, hit targets for future cost targets and created a benchmark for future industrial participation.

He said: "The team fought off fierce competition and were recognised by an independent panel of procurement leaders from across various industrial sectors under the sponsorship of the CIPS institute, who lead the direction of the procurement and supply chain profession.

"The award is testament to the hard work, performance and innovation of the team in collaborating with Marand to transform themselves into a first class F-35 assembly business.

"The work with Marand saw us, in just two years, effectively transfer our vertical tails manufacturing capability half way across the globe from our site near Preston, United Kingdom to Melborne, Australia, where Marand will now provide us with over 700 vertical tail sets for the F-35 over the next 20 plus years."
 
Steve Mellor who heads up the F35 vertical tail team at Marand and who was an attendee at the CIPS ceremony, said: "It has been a great journey working with BAE Systems to develop this leading edge aerostructures assembly capability at Marand. Achieving this in such a short time is testament to the great relationships that we have developed and how open both parties were to innovative approaches.
"It has been tremendous to see this effort recognised by this prestigous award."
BAE Systems serves the needs of its customers by delivering a wide range of advanced defence, aerospace and security solutions that provide a performance edge. With some 84,600 employees in six continents, the company states it is committed to creating solutions that protect and strengthen nations, commerce, communities and people.