World's first hybrid reach stacker comes to the UK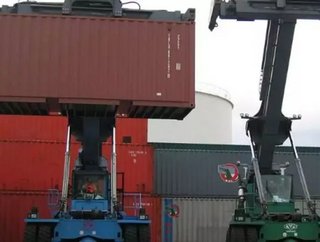 The worlds first hybrid reach stacker is soon to be available in the UK throughCooperSH. Developed by Konecranes, the newSMV4531TB5HLThas an estimated...
The world's first hybrid reach stacker is soon to be available in the UK through Cooper SH.  Developed by Konecranes, the new SMV 4531 TB5 HLT has an estimated fuel consumption of around 10 litres an hour during normal handling of fully loaded containers, which is significantly less than conventional reach stackers.
The low fuel consumption is achieved by electrifying all flows of energy across the driveline, the hydraulic lifting system and the energy storage system. Its unique features also provide improved acceleration performance and lifting response to driver commands.
With a 45 tonne lifting capacity, the vehicle features a hybrid diesel/electric driveline, an electrified hydraulic lifting system, and a super capacitor based energy storage - significantly cutting fuel consumption and emissions.

Tony Rooney, Cooper SH Director, commented: "This project has been on-going for around 2 years and we are delighted that it has now entered it's field-test mode. It is further proof that SMV (Konecranes) truly is the innovator within the industry having brought to market such designs as glass 'wrap-around' pillar less operator cabs, load sensing hydraulics, ECO drive fuel management technology, which competitors have since followed, and now this new hybrid technology."

Anders Nilsson, Technical Director, Konecranes Lift Trucks said "Propulsion and lifting are powered by dedicated electric motors that can all operate in regenerative mode. The energy generated from braking and load lowering is recovered and stored for later re-use. This translates into a significant reduction in diesel fuel consumption and environmental impact. Meanwhile, productivity is increased in terms of quicker response and higher acceleration." 

The new hybrid Konecranes reach stacker has been and will continue being field-tested at the Port of Helsingborg's container terminal, which is one of Sweden's leading container terminals and operates a significant fleet of Konecranes units.