What going on Undercover Boss revealed for DHL Express UK CEO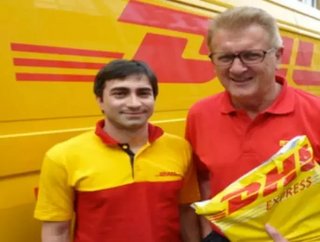 Follow @SupplyChainD Follow @JosephWilkesWDM DHL Express UKs Chief Executive Officer Phil Couchman(pictured, right) was able to make significant chang...
DHL Express UK's Chief Executive Officer Phil Couchman (pictured, right) was able to make significant changes to the business after taking part in groundbreaking TV programme Undercover Boss.
The discovery of a "disconnect" between the call centre and some of the company's depots or 'service centres' lead the Australian – who has been with DHL for 30 years in locations around the world – to set up an operations desk in the call centre, staffed by people from the service centres.
 "I plugged that gap" said Couchman, "and it has worked very successfully. I would recommend it to anybody."
Undercover Boss UK involves the chiefs of some of the biggest companies in the world going undercover as regular staff members to see how their firms really work and how they can be improved.
Couchman, whose 18,000 employee-strong UK company is an arm of the €50 billion plus turnover global giant Deutsche Post, learnt a number of things from the experience. He came across pay discrepancies across the organisation's locations, saw first-hand the strenuousness of heavy lifting in depots, employees kept on casual contracts and drivers in rural locations struggling without satellite navigation devices.
A valuable lesson
Couchman said he made moves to rectify the issues he found but, more than that, his time on the show proved the need to be close to employees.
"There is no silver bullet," he said, "but you have to structure your organisation so that you and managers throughout have good communication and an open, fair, free dialogue with people.
"Not everybody does it that way and some of our competitors have a particularly hierarchical way of doing things. It is all done by absolute adherence to rules and regulations and processes, which is fine, you have to have them but you must be careful not to stifle creativity.
"Being on the show prodded my professional conscience.Although we encourage open dialogue and open office door – and I don't like hierarchies anyway – there is always that some barrier no matter how hard you try and you won't see beyond it unless you are truly one of them, if I can put it that way.
"I learnt that the more you can talk to people the more enthusiastic they are about the business and the more ideas they have got for DHL – little things – to make it better."
Industry future
As a CEO with 33-years experience in express delivery, Couchman is well positioned to pass comment on the current state of the industry and offer his insight into what lies ahead.
Online retailing, said the CEO, has had a tremendous impact, with sectors such as sports apparel, merchandising and everything from fashion to bicycle parts carrying out almost their entire sales volume online and pushing a lot of work through DHL's network.
Couchman said: "The website is clearly the shop window. That's where the most notable action is for the express industry and for those of us with our own dedicated air network and customer clinics  all around the world, that sets us aside to a large extent from the freight forwarders of this world."
So how will this shape the future of the express industry?
"What I reckon will happen," said Couchman, "all exporters will see more shipments being ordered online and delivered directly to the customer in a different country and that is where the express industry is in a very happy place.
"The key strength of the express industry of DHL is its own network, so we have our own aircraft that operate to hubs all round the world and then gateways that clear them for that particular country and feed into the ground network. So, unlike air freight, sea freight and the processes around both, the express industry is actually unique and I think if you assume the express industry will continue to invest in its fleets and its networks, to keep pace with online commerce, I think you are going to see more and more business coming on to the express networks."
Adapting to change
DHL Express UK's recent success, said Couchman, is a "good barometer for what is going on out there".
The company has seen an increase in volume in the number of shipments it has to handle due to the international market-nature of online retail. Investment has been seen in the on-the-ground operation, in the courier fleet and depots, on such things as the process flows and the mechanical handling equipment. 
DHL's hubs and gateways for exporting and importing have been made bigger, along with the fleet, with more and bigger aircraft, with a surge in this area over the past three years.
Another investment that has had to be made is in insuring that the company can meet the challenge set by an increased number of shipments being delivered to homes across the world, as many of those orders are from private addresses and consumers. A big investment in things such as SMS text message and email pre notification has taken place therefore.
One thing Couchman sees replicated across the industry is the development of service points and drop points, whereby relationships with other companies in various parts of the world are nurtured in order to expand a company's service-point footprint.
For example, DHL has recently finalised a partnership with Mondial, where the Dutch company will offer the use of 4,000 service points in locations such as France.
Big feet
This is a typical example of methods currently employed by courier companies like DHL in expanding its footprint and adapting to the modern demand.
Couchman said: "Everywhere you look you will find that, in one way or another, companies in our industry are trying to increase their footprint, so they will do it through a relationship like that and they will be doing it through static stations like pack stations.
"In Germany, we have thousands of DHL pack stations, which are modular stations, similar to BuyBox here in the UK which enable a customer to have electronic access to his particular box, located in a railway station, the back of a supermarket or gas station and the shipment will be delivered there and he can pick it up. It is something that seems to have really exploded in the last couple of years.
"The traditional road network, door-to-door delivery and so on do come under pressure. It is important to note that, while our fundamental model is door to door, we are facilitating the handing of shipments over instead of delivery to a residence.
"I would say, recently, there is more focus on expanding than anybody has ever seen before."