What can business learn from logistics in the Army?
By Sean Farrington, UK MD and RVP Northern Europe at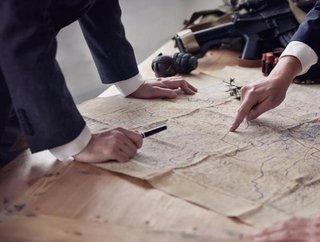 As a former Army officer who has transitioned from a life in the Armed Forces to working and living among civilians, I like to keep an eye on what my...
As a former Army officer who has transitioned from a life in the Armed Forces to working and living among civilians, I like to keep an eye on what my previous employer is up to and to see how I can apply some of these learnings to our everyday lives.
During my time in the Army, I gained a lot of experience with logistics, working with the Royal Logistics Corps (RLC), a vital cog in the Armed Forces machine and a topic that still forms part of my career today in discussions with my employees, partners and customers.
In the Armed Forces, the RLC provides constant support to the Army, whether that's supplying vehicle parts, tools, ammunition, food rations – or even water. A 'Logistic Supply Specialist' in the RLC has to support the Army whenever they're needed - sustaining and recovering all military operations worldwide. They support all aspects of the Army, no matter what terrain or what the threat is, the RLC will be there making sure that all needs are catered for. While a business supply chain is often about getting a product from A to B, the RLC does for the Army what the combination of Shell, Sainsbury's, EDF and say Thames Water do for civilians, only on a greater scale, with even more elements to navigate.
Following the coming down of the Berlin Wall and the end of the Cold War, the Army was subject to some downsizing. Then, when the Gulf War hit, suddenly a lot of resources had to be relocated from Germany across to Kuwait as effectively and efficiently as possible - albeit with less resource. In the Army, the need of the 'customer' can change so quickly and significantly, for example switching from peacetime to wartime operation, the RLC has to be able to react at significant speed. It's this precision and need for efficiency amid seemingly constant cost-cutting that means the RLC can completely understand the pressures businesses are facing today in managing their supply chains.
But here's where businesses can learn from the RLC to help the situation. The need to use technology was, even back then, recognised. The military knew handling the cuts while getting everything in place at the right time would need a system in place to work out exactly who and what was needed where and when, with spot on precision. And deploying technology equivalent to our current data analysis systems to give them an overview of the situation put the military very far ahead of the curve – especially when you consider that it was before people were really even using the internet. 
But it wasn't just the technology that helped the Army with the situation – it was also about correctly managing the people involved and harnessing their abilities. After all, it doesn't matter how good your technology is if you don't have the will of individuals to get a job done. One thing that prevails in the RLC, of which we need more in business, is people having a collective sense of purpose and executing on it accordingly. That might mean a last-minute change in roles and responsibilities, but people would step up to the plate with the understanding that, as a collective, they all need to get the job done – and that in itself relates very well to the supply chain in business. Instilling a sense of a mission in employees to get everything to where it needs to be in a timely fashion is crucial.
Of course, the scale isn't as grand and the stakes aren't as high as in a military conflict, but when customer relationships are at stake, failing to get a delivery – whether produce for a sandwich to be made in-store or a DVD straight to a customer's home – can make the difference between a happy customer or someone who's going to go elsewhere in the future. Luckily there are some very sophisticated data analysis technologies out there that, when used by people who have been correctly trained and therefore empowered to use them, can do this job very effectively. 
Ultimately, the supply chain needs to find a way to learn from the RLC and get a perfect mixture of empowered people who will find a solution to getting the job done, but also technology that can show them the way to do so in the most efficient manner. The Army has, since its early prowess for adopting technology ahead of the curve, started to lean more heavily on people-centric initiatives, rather than technological innovation, but for both the RLC and business supply chains, there's definitely a perfect mixture to be had in getting all stock, staff and supplies where they need to be.