Walmart to roll out drone delivery to 4mn US households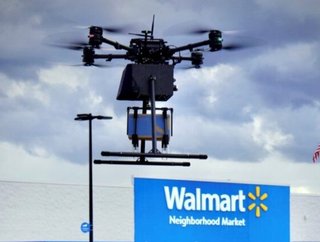 Capgemini enterprise transformation expert Brandon Rael says automation is future of last-mile but that drone tech not ready for widespread adoption
Walmart is set to have the largest drone-delivery system in the US, as it seeks a competitive advantage in last-mile delivery.
The retail giant is partnering with DroneUp to expand drone deliveries to six US states. Up to 4 million households will be able to get food, groceries and supplies from Walmart delivered by remote-controlled drones by the end of the year, according to Walmart.
Parts of Arizona, Arkansas, Florida, Texas, Utah and Virginia could be receiving more than 1 million packages by drone annually, Walmart predicts.
The company says it will charge $3.99 per drone delivery, with a weight limit of up to 10lb, and will apply the safety principle: 'If it fits safely, it flies'.
It did not specify how its vast drone fleet would negotiate airspace concerns, nor how the machines would be powered.
Walmart to offer 10,000 products for drone delivery
Walmart's drone project significantly expands the range of products that could be dropped by air. The company says it will offer up to 100,000 products from a variety of categories - from detergent and batteries to snacks.
Customer orders will be packaged at the stores, then flown by a remote pilot to a front yard or driveway, where the package will be lowered to the ground using a cable.
The DroneUp system puts Walmart ahead of rivals such as Amazon and Alphabet in the US, though both of these companies have already begun scaling drone delivery systems in the UK and Australia, with mixed results.
Although early Walmart pilot projects mostly delivered household essentials and Covid-19 home-test kits, Walmart says its research indicated customers do not see drone delivery as being for emergencies only.
Writing on LinkedIn, Capgemini Strategy & Operations Leader Brandon Rael said: "Robotics, automation, and eventually drones will be the new norm for supply chain fulfilment capabilities.
Automation 'vital' for last mile delivery - Capgemini
He says that, to meet last-mile challenges, automation and robotics are "an absolute necessity" to reduce cost–to-serve, and to cut inefficiencies and optimise processes.
But Rael says that for widespread adoption, drone tech needs to improve: "While automation and robotics are driving economies of scale and efficiency, the drone delivery model requires more work. Drone delivery is built around supply chain fulfillment innovation but it will require a crawl-walk-run strategy to implement this safely, with the right regulations and policies.
"As drones become more advanced, socially accepted and, most importantly, safe, we can expect this delivery model to scale-up, and for companies to invest in this space."