VIDEO: Norbert Dentressangle to recruit another 100 apprentices in 2015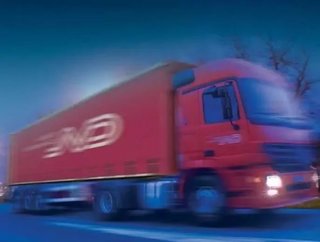 Follow @SamJermy and @SupplyChainD on Twitter.Coinciding with National Apprenticeship Week (9-13 March 2015), Norbert Dentressangle has announced that i...
Follow @SamJermy and @SupplyChainD on Twitter.
Coinciding with National Apprenticeship Week (9-13 March 2015), Norbert Dentressangle has announced that it plans to recruit a further 100 apprentices this year.
Following the successful launch of its first scheme in September 2013, Norbert Dentressangle has recruited more than 170 apprentices to date, many of whom are nearing completion of their first 12 months.
With a guaranteed job for every apprentice at the end of the scheme, Norbert Dentressangle is now talking to these individuals about what happens next, including the provision of further learning and development opportunities to allow them to further their careers and fulfil their potential.
Chris Dolby, Learning & Development Manager for Norbert Dentressangle Logistics UK Ltd said: "We couldn't be more pleased with how the scheme has worked, with overwhelmingly positive feedback from our sites, customers and the apprentices themselves.
We are now working hard to ensure that our apprentice scheme continues to attract quality candidates and that our current crop of apprentices develop and progress into highly skilled colleagues, in line with Norbert Dentressangle's 'You Grow, We Grow' philosophy."
Five of the current cohort have also applied for places on Norbert Dentressangle's Fast Track Talent programme, in which both graduates and talented internal candidates complete four six month management placements in various parts of Norbert Dentressangle's business, with the opportunity for one of these to be overseas.
Based on feedback from both the apprentices and their managers, Norbert Dentressangle is relaunching the scheme for 2015, including an increase in rates of pay and the introduction of dedicated apprentice development programmes, including regional development days. Norbert Dentressangle will also be increasing its focus on local school and community engagement to raise awareness of employment and career opportunities in the logistics industry.
The success of the scheme is borne out in the experience of Kishan Patel, whose father also works for Norbert Dentressangle. He said: "When I left school, I started a university course but found that the formal style of study really didn't suit me. I wanted to learn in a more hands on environment and, from what my Dad told me, Norbert Dentressangle's apprenticeship scheme seemed to tick all the boxes.
"It's been a really positive experience; everyone's been really welcoming and supportive and my manager has taken time for regular one-to-one chats to discuss how things are going and what else I can do to continue to develop my skills. I'm keen to carry on learning and am now hoping to work towards a management role in the future."
Norbert Dentressangle currently offers a number of different opportunities for apprentices to earn while they learn, leading to NVQ Level 2 qualifications in either Storage & Warehousing, Traffic Office, Customer Services or Business Administration as well as NVQ Level 3 qualifications in Finance, HGV Fitters, Driving Goods Vehicle, IT.
With more than 14,700 employees across 195 sites, 1,700 vehicles, and around 3.5 million sqm of warehousing, Norbert Dentressangle is one of the UK's largest and transport and logistics companies.  The wider Norbert Dentressangle group is an international player in logistics, transport and air & sea freight with 43,200 staff and a presence in 25 countries. At 31 December 2014, its turnover was €4,669 billion, including 60 percent generated outside France.
For more information about Norbert Dentressangle's services, visit: www.norbert-dentressangle.com