VIDEO: FedEx delivers Christmas joy to the troops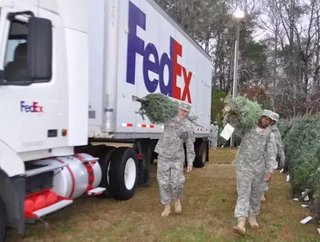 Follow @SamJermy and @SupplyChainD on Twitter.FedEx and theChristmas SPIRIT Foundationare once again joining together to make the holidays a little brig...
Follow @SamJermy and @SupplyChainD on Twitter.
FedEx and the Christmas SPIRIT Foundation are once again joining together to make the holidays a little brighter for USA's service members and their families with the Trees for Troops program.
This year marks the 10th anniversary of the program, which brings together FedEx, the Christmas SPIRIT Foundation and tree farmers across America to deliver real Christmas trees to service members stationed across the US and overseas.
During the busy weeks leading up to Christmas, FedEx will deliver more than 17,000 live Christmas trees to more than 60 military bases.
Bill Logue, President and CEO of FedEx Freight, said: "Delivering Christmas trees to our troops is one of our most treasured holiday traditions. We are proud to leverage our logistics network through this program to honour and give back to America's servicemen and women."
Delivering Holiday Joy at Home and Overseas
The Trees for Troops initiative began in Thorntown last week as FedEx volunteers helped prepare nearly 200 live Christmas trees to be shipped to service members stationed overseas. The Christmas trees, donated by members of the Indiana Christmas Tree Growers Association, will be delivered to service members stationed in the Middle East and South Pacific via the FedEx Express hub in Indianapolis. 
Once the international deliveries have taken flight, FedEx Freight will hit the road with more than 17,000 fresh-cut Christmas trees to be delivered to US military bases beginning 1 December, with final deliveries scheduled for 13 December. Many of these deliveries include special holiday festivities in which military families receive their anticipated Christmas tree.
Join the Effort
As part of the program, National Christmas Tree Association members around the country donate thousands of fresh trees to Trees for Troops through the Christmas SPIRIT Foundation. Support Trees for Troops by donating to the program and/or purchasing fresh trees at one of more than 30 Christmas tree retail locations nationally during the official Trees for Troops weekend on 5-7 December.
Nigel Manley, Christmas SPIRIT Foundation Chairman, said: "Being involved with Trees for Troops is truly a gift that gives back. It's rewarding and meaningful to everyone involved, because it gives us the opportunity to say thank you to our troops, and help ensure military families have the kind of joyful, traditional Christmas memories that we would wish for America's heroes."
Trees for Troops is part of FedEx Special Delivery, a nationwide FedEx program that supports local organisations by donating transportation services and other assistance to help them fulfil their missions. Since the Trees for Troops program launched in 2005, FedEx has shipped more than 139,000 real Christmas trees to service members and their families; covering every branch of the military at more than 60 bases in 17 countries.
Trees for Troops will also send holiday greetings to service members this year with the Tag-a-Tree campaign. Tweet your message using the hashtag #TreesforTroops from Nov. 18-25, and your message may be selected for placement on a tag for one of the 17,000 Christmas trees going to troops across the country.
For information about the peak holiday season at FedEx, visit the FedEx Newsroom. To find out more about the Christmas SPIRIT Foundation, visit: http://www.christmasspiritfoundation.org/dnn/default.aspx