UPS takes initiative in commercial trucking safety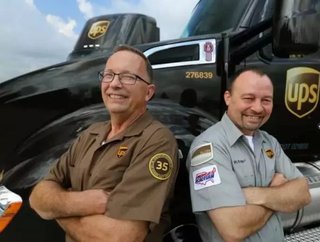 Follow @SamJermy and @SupplyChainD on Twitter. UPS, which operates one of USAs largest commercial trucking fleets, is making collision mitigation tec...
Follow @SamJermy and @SupplyChainD on Twitter.
UPS, which operates one of USA's largest commercial trucking fleets, is making collision mitigation technology standard equipment on every new Class 8 tractor the company orders. Each of the more than 2,600 new Class 8 tractors that UPS takes delivery of in 2015 will feature this accident mitigation technology, which alerts drivers to moving and stationary objects in front of the tractor and moving objects surrounding the vehicle.
The National Transportation Safety Board (NTSB) has recommended that all passenger and commercial vehicles use this technology. The NTSB's special report "concludes that collision warning systems, particularly when paired with active braking, could significantly reduce the frequency and severity of rear-end crashes."
Randy Stashick, President of Engineering for UPS, said: "Safety is of the utmost importance to UPS. We're investing in technology that provides UPS drivers with opportunities to increase visibility of their surroundings in constantly changing environments. The safety benefits of these technologies make incorporating them into UPS's fleet the right thing to do for our employees and fellow motorists."
RELATED READ: UPS tests electric cargo bike in Switzerland
The collision mitigation systems on UPS's new Class 8 tractors feature lane departure warnings, electronic stability control, and anti-lock air disc brakes. Stability control monitors the tractor trailer's motions and, especially during turns and slick conditions, automatically distributes braking power to each wheel for a more precise control.
Paul Savill, UPS Freight driver and a captain for the American Trucking Association's America's Road team, said: "Collision mitigation systems make good drivers even better. Traffic conditions can change quickly as other vehicles change lanes. These technologies are an excellent complement to safe driving techniques."
UPS's 102,000 drivers worldwide are among the safest on the roads, logging more than 3 billion miles per year and delivering more than 4 billion packages safely. Before ever making a delivery, all UPS drivers are taught safe driving methods through the company's defensive driving platform. The training continues throughout their careers.
Bill Lazarski, a UPS Circle of Honour driver who has driven without an accident for 36 years, concurred. "I can't say enough good things about the collision mitigation technology. I was a little hesitant at first, but adapted very quickly and easily. After using the technology for more than a year, I'm convinced collision mitigation systems can make a positive impact on road safety."
There are more than 7,800 active drivers in UPS's Circle of Honour program, which recognizes drivers for 25 years or more driving without a preventable crash. Collectively, UPS Circle of Honour drivers have logged more than 5.3 billion miles and more than 221,000 years of safe driving through their careers. That's enough miles to travel to Mars and back 36 times.
Each new UPS Class 8 tractor since 2012 has featured stability control, a foundational technology for collision mitigation systems, for more stable turning, shorter stopping distances, and reduced buffeting. The National Highway Traffic Safety Administration (NHTSA) mandated on June 3, 2015, that all Class 8 tractors utilize electronic stability control within the next two years.
The collision mitigation system goes one step farther. It features adaptive cruise control, which maintains a constant distance behind the vehicle in front of the UPS tractor. With the adaptive cruise control turned on, the UPS tractor will automatically slow to avoid a collision. Secondary benefits include reducing the accordion effect caused by traffic and, from that, enhanced fuel economy.
Each new UPS Class 8 tractor also features an automated manual transmission, which offers the power and efficiency of a manual transmission with the simplicity of an automatic transmission. Eliminating the need to shift gears provides the driver with greater opportunity to implement proactive defensive driving techniques.
UPS's Class 8 tractors that pull multiple trailers also may utilize a telescoping t-dolly that automatically reduces the space between the trailers from 40 inches to 12 inches at highway speeds (45mph or more). Reducing the distance between the tandem trailers decreases buffeting, increases stability, and improves fuel economy 2.5 to 3.5 percent.
UPS is a global leader in logistics, offering a broad range of solutions including transporting packages and freight; facilitating international trade, and deploying advanced technology to more efficiently manage the world of business. Headquartered in Atlanta, UPS serves more than 220 countries and territories worldwide.
For more information, please visit: https://www.pressroom.ups.com/pressroom/ContentDetailsViewer.page?ConceptType=PressReleases&id=1437512136626-572