UK supply chain threatened in Middle East, Africa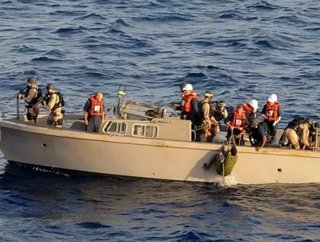 Its safe to say the UK has its hands full dealing with a couple of potentially deadly supply chain problems. On the same day that the countrys foreign...
It's safe to say the UK has its hands full dealing with a couple of potentially deadly supply chain problems.
On the same day that the country's foreign affairs committee asked the British government to allow ship guards to shoot to kill Somali pirates, Defence Secretary Philip Hammond was dealing with his own crisis off the coast of Iran.
The Middle East nation has threatened to cut off the Strait of Hormuz, a vital shipping lane that directly links the Arabian Sea with the Persian Gulf. Hammond warned Iran that any attempt to block the waterway would be "illegal and unsuccessful," and that military force would be used if necessary.
Iran has been toying with the idea of closing the strait to outside ships over a dispute on its nuclear program. More than a dozen oil tankers carrying roughly 15.5 million barrels of crude oil pass through the Strait of Hormuz each day, which is about a third of the world's seaborne oil shipments.
"It is in all our interests that the arteries of global trade are kept free, opening and running," Hammond reportedly will say in a speech to the Atlantic Council. "Our joint naval presence in the Arabian Gulf, something our regional partners appreciate, is key to keeping the Strait of Hormuz open for international trade.
"Disruption to the flow of oil through Strait of Hormuz would threaten regional and global economic growth. Any attempt by Iran to do this would be illegal and unsuccessful."
SEE OTHER TOP STORIES IN THE SUPPLY CHAIN DIGITAL CONTENT NETWORK
Piracy costs global shipping $9B each year
Syrian uprising deals ocean shipping a major blow
January's issue of Supply Chain Digital is live!
With the situation in the Middle East oil supply chain reaching a boiling point, the threat posed by the Somali pirates to ships off the coast of Africa has yet to reach its high water mark. The British shipping industry as a whole is worth £10.7 billion (US $16.57B), and while armed guards have been helping to disrupt pirate activity, the UK's committee of foreign affairs wants clearer guidelines on the use of lethal force.
Over $300 million has been paid to Somali pirates in the past four years, according to the committee's numbers, which they view as unacceptable.
"The government's guidance on the use of force, particularly lethal force, is very limited and there is little to help a ship's master make a judgment on where force can be used," the committee said in a statement. "The government must provide clearer direction on what is permissible and what is not."