Transport management and the AI revolution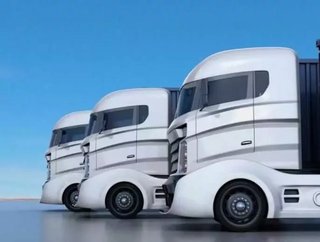 Weve heard people talk about reducing the number of freight vehicles on the roads many times before. However, the transport industry has yet to find an...
We've heard people talk about reducing the number of freight vehicles on the roads many times before. However, the transport industry has yet to find an effective way of doing so. Collaboration has been touted as the answer by some – but the lack of results so far suggests that this is not the best way forward.
I believe there is a much more viable and realistic way working towards the magic target of a 40 percent vehicle reduction – the application of artificial intelligence.
As an industry, we can be slow to adopt new technology, and tend to rely on our people. However, transport management is a fragmented sector with an ever changing spectrum of complex variables. Although there are some good strategic analytical systems that use sophisticated algorithms to help run operations, ultimately most sites operate in isolation with decisions made by humans - a technical solution is often the last resort.
The problem has been exacerbated by 3PLs who have encouraged customers to pass their transport problems on to them, slowing down the adoption of technology as people address specific problems rather than taking an holistic approach and devising generic solutions.
However, some of the big users of transport such as car manufacturers are now seeking more control over their transport operations. For example, Honda has recently adopted technology that allows them to bring their whole operation back in-house using 3T's software. As a result, Honda can now manage several carriers with significantly fewer people, saving money while increasing control and improving service levels.
The mobile revolution
Smartphone and tablet applications are proving real game changers but many carriers are unsure how to move forward with this technology. Our research with 500 carriers shows a concern that there are too many different systems and no common operating platform that smaller systems can link to. Their other concern is that customers often require the use of their specific applications meaning that a carrier working for several customers may have to use a variety of different applications for tracking, control and proof of delivery.
Ultimately, it's all about vehicle utilisation. Companies become more effective by increasing vehicle utilisation on a 24-hour basis; automating as much of the transport process as possible, improving visibility and providing information that enables organisations to make sound business decisions.
The advancement of artificial intelligence and sophisticated algorithm techniques means that for the first time we have computer systems that can do a better job than a human. Although AI has been around for some time, few systems have been used for day to day planning. The new breed of systems can work with all the variables and respond instantly.
Smartphone applications represent a dilemma for companies who have invested significantly in systems that 18 months ago were the best solution. For example, the sophisticated black box systems used in vehicles to monitor everything from temperature to load information are now being superseded by smartphones. This means that the tracking solutions and control processes that companies invested £2m-£3m into three years ago are now being replaced by something costing £5 a month on a smartphone.
The best smartphone apps can track a shipment, not just the vehicle, offering real-time information. As a result, the culture is changing with companies like Honda demanding control of their operations by implementing this type of system, rather than handing it over to the big 3PLs.
You only have to look at companies like Amazon, eBay and PayPal who have a much better understanding of how to use technology to see how it can transform operations. The transport management industry must not be left behind.
Steve Twydell is CEO and founder of the 3T Group (www.3t-europe.com). He has 35 years of experience in European land based transport working in a range of large organisations including Sony, DSG, Currys, Ryder Plc, BT and Harrods.
Supply Chain Digital's September issue is now live. 
Follow @SupplyChainD on Twitter.