Top ten food & drink shortages - from booze to baby milk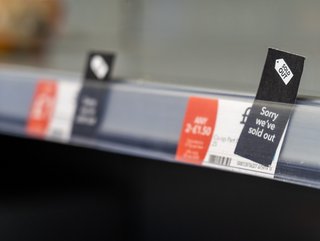 With news McDonalds hasn't enough tomatoes for its burgers, we look at some eye-catching supply chain problems to have affected the food & drinks sector
McDonald's in the UK recently announced it is suffering a tomato shortage that has forced it to reformulate its burgers, which are now being served with one slice of tomato instead of two. The shortage is due to lower UK harvests because tomato growers can no longer afford to heat greenhouses to the same extent as previously because of the price of gas.
APS Group, which supplies around 40% of UK tomatoes, said it had closed 10% of its greenhouses because of spiralling energy costs.
The UK tomato shortage shows just how sensitive food and drink supply chains are to external factors, and with this in mind, below are nine more current and recent food supply shortages that have affected different parts of the world.
9. Wine, beer & spirits shortage - UK
Over Christmas 2021 the UK had to endure an alcohol shortage because of a lack of truck drivers, compounded by continuing restrictions to trade following Brexit. In the run-up to Christmas, the Wine and Spirit Trade Association (WSTA) - comprising 48 wine and spirits companies - warned the UK government it was taking up to five times longer to import products than a year ago, with two-day orders taking more than two weeks to process. It said supermarkets would run dry, and festive deliveries would arrive late. Supplies of wine, beers and spirits were indeed impacted, leaving many UK citizens facing less seasonal cheer than they would normally expect.
Wine, beer & spirits shortage video
8. Avocado shortages - US & Europe
The US is one of the world's top consumers of avocados, because of the popularity of Mexican cuisine. But earlier this year, the US government suspended imports of Mexican avocados after an American plant safety inspector based in Mexico received a death threat, and the break in supply while security issues are resolved is already seeing avocado shortages in US shops, sparking riots.
Europe's appetite for avocados, meanwhile, continues to skyrocket, with EU consumption of avocados increasing by 150% over the past decade. Such demand is putting pressure on its main sources - Peru, Chile, South Africa, Israel and Mexico.
7. Pet food shortages - US, Europe & APAC
The continuing shortage of aluminium, compounded by shipping issues, have led to shortages in dog and cat food across the US and Europe. This shortage has also been compounded by disruptions to the supply of chicken by-products, vegetable oils, and corn and soybean derivatives, all of which are used in many canned pet food items. These ingredient shortages have not eased with the passing of the pandemic, and costs have risen by between 8-20%.
6. Fruit juice shortages - US
From October 2021 until the end of the year, US supermarkets began running low on boxed and bottled juices - a staple of school lunchboxes. This was due to a smaller-than-expected apple crop but also a shortage of cartons, due to pandemic supply disruptions. Suppliers mitigated against shortages by scaling back production on certain flavours to focus on those that can be produced more easily, such as cranberry.
5. Free-range eggs shortages - UK
Free-range eggs are no longer on sale in the UK after outbreaks of avian influenza - otherwise known as 'bird flu' - led to hens being housed indoors for long periods of time. Birds reared for meat and eggs have been ordered to be kept indoors since November 2021 to reduce the risk of outbreaks of the disease. It follows what UK government officials have said is the "largest ever outbreak of avian flu". The outbreak began in the winter of 202, with more than 80 reported instances in England alone, as well as new cases continuing to be reported. The closest equivalent to free-range eggs that UK consumers can now buy are 'barn eggs' - from hens allowed to wander freely inside barns.
UK egg producers called on companies to stick with British eggs, rather than importing foreign free-range products.
Free-range eggs shortage video
4. Cream Cheese shortages - US
Cream cheese and bagels are an American staple, but food manufacturing giant Heinz - whose Philadelphia cream cheese brand is the country's most popular - said in 2021 that a 35% spike in demand had left it unable to keep pace. It also cited ongoing supply chain shortages, and a shortage of truck drivers and lack of key staff, as other problems imperilling the supply of cream cheese.
Another food manufacturing company, Kraft, offered $20 as a reward to US citizens for not baking a cheesecake in the Thanksgiving holiday period. The marketing ploy saw a select few customers refunded for another baked item.
Compounding the shortage in October 2021 was a cyberattack against the largest US cheese manufacturer, Schreiber Foods.
3. Baby formula shortages - North America & Europe
Pandemic disruption, plus a massive spike in demand for baby formula milk in China, has seen shortages of the product actress Europe and North America, as manufacturers struggle to align supply with this shifting pattern of demand.
In 2020, the global infant formula market was valued at US$56bn, with China accounting for almost 50% of this. Massively increased demand for formula milk in China can be attributed to a growing middle-class population, a rise in participation of women in the labour workforce, and growing awareness among Chinese parents of the nutritional value of infant formula.
2. Canned drinks shortages - North America & Europe
The pandemic didn't stop us consuming sodas and beers, it just meant we had to do it from home. In North America and Europe there was a spike of 10% in demand for canned drinks, which coincided with disruptions to every stage of the aluminium supply chain, including an international trade dispute that impacted the flow of bauxite - the ore from from which aluminium is derived. This continues to bottleneck supplies of cans - pun absolutely intended.
On the subject of bottles, consumers see glass and plastic as less recyclable than aluminium tins, so this is another factor fuelling demand for tinned drinks.
1. Wheat shortages - North Africa & Central Asia
Ukraine - along with southwestern Russia - is known as 'Europe's breadbasket', thanks to the region's rich dark soil. The region accounts for 15% of the world's wheat production, and 30% of world exports. Egypt, Tunisia and Algeria are already feeling the sting of the wheat shortage. Egypt is the world's largest importer of wheat and gets 60% of its imports from Russia and 40% from Ukraine. North Africa is not the only region affected by the wheat shortage. Indonesia is the world's second largest buyer of Ukrainian wheat, and Pakistan, Turkey, and several countries in Central Asia and sub-Saharan Africa depend on it as well.