Top four logistics and transport stories you may have missed over the holidays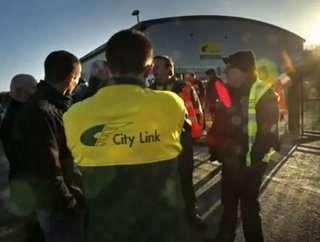 Follow @SamJermy and @SupplyChainD on Twitter.Here at Supply Chain Digital towers, today is the first day back at the office after the Christmas holiday...
Follow @SamJermy and @SupplyChainD on Twitter.
Here at Supply Chain Digital towers, today is the first day back at the office after the Christmas holiday. If you are like myself, you will have over-indulged in Turkey and experienced a whole world of cheese. Not at the same time though, because cheesy turkey would be weird. Super weird. Maybe being away from your business for a fortnight has meant you've been out of the loop for a bit though.
Well here's where we come in, because we kept up with the news so you didn't have to. Here is our rundown of the top four logistics and transport stories you may have missed over Christmas. We have everything from the devastatingly serious to the pretty whacky. You're welcome.
City Link's sudden administration

On Christmas Eve City Link Limited was placed into Administration and Hunter Kelly, Charles King and Tom Lukic of EY were appointed joint administrators.
The business has ceased to accept new parcels from customers and its depots will remain open for a short period of time to enable customers or intended recipients to collect parcels.
Shockingly, the 2,700 workers found out they were redundant on Christmas Day. Those customers who placed parcels with City Link on Christmas Eve for delivery are urged to go to the depot to retrieve their parcels as soon as possible. Any intended recipients who have been notified of a failed delivery are also urged to go to the depot to collect their parcel as soon as possible.
City Link will no longer be able to deliver any further parcels and customers are urged to make alternative arrangements for future deliveries.

There has been a degree of public backlash towards the owner of City Link's private equity owner, Better Capital and the Tory donor Jon Moulton. He is worth £100m and remains largely unaffected.

Negotiations with Royal Mail and DX Group did not result in a deal after the two firms were approached over a takeover.

 
2.Korean Air and the 'nutgate' scandal

Amazingly, Cho Hyun-ah, the 40 year old daughter of the airline's chairman and former head of in-flight service, has found herself detained as a result of a tantrum over macadamia nuts on 5 December.
She was arrested on 30 December after prosecutors sought a detention warrant for Cho who faces charges of violating aviation safety laws. The incident is reported to have emanated after she was served nuts in a bag and not a bowl.

In what is being labelled 'nut rage' on social media, the A380 jet returned for the chief attendant to disembark. The flight arrived in Incheon Seoul Airport 11 minutes late, and the airline officials are reported to have tried to cover up the incident.



 
Yodel struggle to deliver parcels sufficiently

Coming off the back of the late November logjam that occurred after the Black Friday and Cyber Minday gimmicks, you would have thought Yodel would get its act together for the busy Christmas appear. But it appears it still had some problems, particularly the in the last mile of the supply chain.
David Higgerson has produced an amusing blog post which does not reflect too well of Yodel and its delivery personnel. Link to the article named '27 ways Yodel brings people together on Twitter' is here:- https://davidhiggerson.wordpress.com/2015/01/01/27-ways-yodel-brings-people-together-on-twitter/?utm_source=dlvr.it&utm_medium=twitter   

 
4.Sunken ships, listing and abandoned immigrants equals a treacherous sea freight winter

It has been a torrid Christmas period in the European waters. First, the Italian coastguard has had to mount multiple rescue operations to abandoned cargo ship adorned with hundreds of refugees drifting in the Adriatic Sea. Then serious incidents occurred quite close to the UK over the New Year. An alarm was raised by a passenger ferry in the Pentland Firth off Scotland after its crew spotted the upturned hull of a Cyprus-flagged ship Saturday.
Searchers on two helicopters and four lifeboats were looking for survivors from the bulk carrier Cemfjord, which was carrying cement from Aalborg, Denmark, to Runcorn on England's west coast.

Also over the first weekend of 2015, a cargo ship reported to be carrying around 1,400 expensive cars on board. Salvage experts have boarded after it was stranded in the Solent off the Isle of Wight after it was deliberately run aground.