Top 10: EMEA logistics firms, Kuehne+Nagel, DHL, UPS feature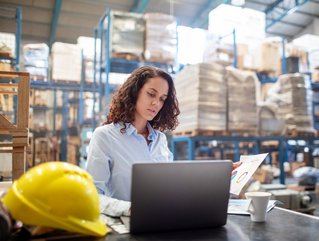 Kuehne+Nagel, DHL, UPS and DSV head list of top sea, air and road logistics and warehousing companies operating in Europe, Africa and the Middle East
1. Kuehne+Nagel
Operating for over 130 years, Kuehne+Nagel is a world leading logistics company with specific expertise in sea logistics, air logistics, road logistics, and contact logistics.
August Kuehne and Friedrich Nagel founded their freight forwarding company in Bremen, Germany. Since then, Kuehne+Nagel has evolved from a traditional shipping company to a global logistics partner that offers highly specialised solutions for major industries worldwide. ​​Today, Kuehne+Nagel is headquartered in Switzerland, with a presence all over the world.
2. DHL Supply Chain
DHL is the biggest contract logistics specialist on the planet, combining global and local knowledge to create customised logistics solutions covering warehousing, transportation and integrated services.
DHL Supply Chain provides freight transportation and logistic services, offering export, import, warehousing, consulting, air freight, ocean freight, and other transportation services. DHL Services serves customers throughout the United Kingdom.
3. UPS
American company United Parcel Service - better known as UPS - is a global leader in logistics, and offers country-specific services across Europe and also Africa.
UPS supply chain services include freight forwarding and contract logistics operations in 175 countries. It also offers worldwide supply chain design, execution and management, as well as consulting services. In total, UPS is estimated to have nearly 10 million customers daily.
4. DSV
DSV A/S is a Danish transport and logistics company offering transport services globally by road, air, sea and train. It was founded in 1976 by nine independent Danish hauliers. It has its headquarters near Copenhagen, Denmark, and operates out of offices in 80 countries.
It employs 56,000 people across three divisions - Road, Air & Sea, and Solutions. Its main activities are road transport networks in Europe, North America and South Africa, as well as its global air and sea freight forwarding business. The group also has a growing contract logistics business.
5. Posti Group Oyj
Operating out of Helsinki, Finland, Posti Group is a postal and logistics company that offers e-commerce, parcels, international road, air, sea and rail freight services, as well as warehousing and supplementary services. Posti is one of the leading delivery and fulfilment companies in Scandinavia and the Baltics.
6. DP World
Based in the United Arab Emirates, DP World is one of the largest operators of ports and cargo terminals in the world. It has 56,000 staff working in 181 operations globally.
It recorded revenues of $4.9 billion in the six months to June 30, 2021. In 2020, it signed a contract with the government of Senegal to build a port at Ndayane with an investment of $1.1 billion. In July 2021.
7. DB Schenker
Schenker is a German logistics company, and a subsidiary of Deutsche Bahn, the German railway company. It is responsible for land, sea, and air transport and contract logistics. Globally it has around 24,500 employees in 750 locations, and warehouses across 50 countries, and has a strong logistics presence in Africa.
8. Gebrüder Weiss
Gebrüder Weiss is by some margin the world's oldest transport and logistics company. The Austria-based company was founded over 500 years ago, when Europe was still emerging from the Mediaeval age.
Today, Gebrüder Weiss group is a private freight-forwarding company that has facilities and offices in 150 locations worldwide. In 2020, it transported 14.8 million consignments, around 57 million parcels, 141,000 standardised shipping containers and 53,000 tons of air freight.
9. The Suez Canal Authority (SCA)
The Suez Canal connects the Mediterranean Sea to the Red Sea through Egypt and is the shortest link between East and West. Roughly 12% of the world's trade passes through the 120-mile man-made waterway each year. During the first half of 2021 alone, 9,763 vessels navigated through the waterway, making SCA a major global logistics player.
The canal is the most important source of income for Egypt. The SCA recorded revenues of $3 billion in the first six months of 2021, an increase of 8.6% compared with $2.7 billion in the same period of 2020.
10. Aramex
Since its foundation in 1982, Aramex has grown to become a global leader in the logistics and transportation industry. Based in the UAE, it has 600 offices in 65 countries, and is one of the largest courier companies in the Middle East. It had revenues of US$815.4mb in the first half of 2021, and $31mn in profit.