The three lessons we learnt from the Suez Canal nightmare
By Neil Murphy, Global VP, ABBYY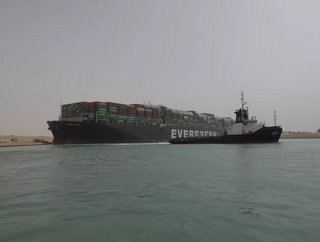 As the Ever Given finally departed Egyptian waters this week, ABBYY's Neil Murphy considers the takeaways of the high profile disruption
The Suez Canal crisis compounded disruptions in a global supply chain already strained under the ongoing impact of the pandemic. At least 367 vessels were backed up waiting to cross, which included container ships, bulk carriers, and oil tankers. Some ship operators opted to re-route around the Cape of Good Hope, adding more than a week of additional sailing time, increasing fuel costs. Ultimately, the disruption caused the canal authorities in Egypt alone to lose $95 million in revenue.
While we're relieved to see that the Suez Canal is open for business again, it shines a spotlight on the urgent need to rethink supply chain management in the shipping and logistics industry.
Nearshoring isn't the answer for short-term problems
Supply chains are still recovering from the impact of Covid-19 and Brexit, and the Suez Canal crisis has put even greater pressure on the UK's global trade routes. A BDO Consulting survey found 33% of manufacturing companies plan to focus on nearshoring manufacturing goods to the UK. As more companies nearshore, many supply chain management companies are investing in digital transformation and stepping up automation. But even with new technology in place, the majority do not have the capability to adapt quickly – a key element in a time of crisis.
Nearshoring may cut down on time and expense, but it's a long-term strategy that takes several years and may or may not solve problems like the Suez Canal blockage. The more immediate problems are understanding and solving how supply chains handle delays, source supply shortages, and overcome lack of visibility into their operations. Companies need to have a deeper understanding of their supply chains. As the pandemic has shown, the demand for flexible, accurate supply chain logistics is on the rise and it's important to be able to adapt to larger, more complex methods of information and product transportation.
Don't underestimate the value of supply chain resiliency
For years, quick delivery, lean operations, and a widely distributed footprint have been the top priorities for supply chain management teams. But in a matter of a few short weeks, the global coronavirus pandemic coupled with the Suez Canal nightmare demonstrated starkly that many management teams have vastly underestimated the value of supply chain resiliency and visibility.
Supply chain leaders must realise that there is no "one size fits all' when it comes to automation. To achieve a resilient supply chain, a holistic approach is needed. Before investing in technology, they need to gain visibility into their processes that can expose delays, shortages or even assess vulnerabilities that can be remediated before they occur. 
According to Lloyd's List, the average end-to-end container shipment involves more than 30 organisations, more than 100 people, and over 200 information exchanges – yet the processes and technology supporting such shipments rarely matches up. There are processes requiring the delivery of accurate information to enable smarter business decisions in real time, and access to critical data such as bills of lading, trade bills, waybills, dock receipts, packing lists and invoices. Many of the systems of trade are currently conducted through a chaotic mess of e-mail, paper, fax, and misaligned Excel spreadsheets. Triaging disruptions via manual tasks like sending email and updating spreadsheets can only further break processes. So, what's the solution?
 
Optimise your supply chain with process intelligence
Not embracing digital innovation in the supply chain is a missed opportunity. A higher level of digital intelligence is needed that will enable supply chain leaders to properly identify and understand how process workflows operate, and how intelligent automation impacts downstream and upstream processes. Sophisticated process intelligence not only effectively monitors the full scope of organisational processes, but it also evaluates the direct cost associated. This enables organisations to strategically improve the cost of completing each individual process. 
Process intelligence can go a long way in creating more effective, efficient, and ultimately successful supply chain operations. It can fix time-wasting processes while immediately predicting and reacting to adverse conditions – which gives staff more time to spend analysing trend data, forecasting, and focusing on exception handling and relationships with clients.
More than this, having the right technologies in place will also help supply chain leaders prepare for the worst – whatever the next major obstacle for our global supply chains might be.
Neil Murphy is Global VP at ABBYY