Tech supply chain 'hindering air freight's net zero bid'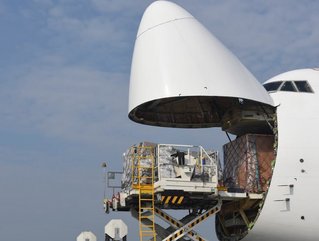 Global air freight volumes are being driven by the rise of e-commerce, but being a growth industry complicates the drive for greater sustainability, which is already being compromised by a lack of supply chain support, says Roland Berger.
Roland Berger study says greater supplier involvement around enabling-technologies is critical if green aviation is to become a reality
The aviation industry recognises the need for greater sustainability. According to a recent survey of industry suppliers by international management consultancy Roland Berger – in conjunction with aerospace associations in Germany (BDLI) and France (GIFAS) – 64% of respondents "are working to develop sustainable parts and systems".
A number of solutions are close to certification while other, more radical innovations, remain in the testing phase. The will to be more sustainable is there, if not always the means, and this is a problem. It is not the only problem.
The global air freight industry has been experiencing significant growth for decades, driven by globalisation and the demand for faster and more reliable shipping options. Major players include DHL, FedEx and UPS, and airlines such as Emirates, Cathay Pacific, and Lufthansa Cargo. Other players in the industry include freight forwarders, ground handlers, and customs brokers.
According to the International Air Transport Association (IATA), global air freight volumes grew by 4.4% in 2021, despite the challenges posed by the COVID-19 pandemic. Growth is being driven by factors such as the rise of e-commerce, an expansion of global trade, and rising demand for time sensitive and high-value goods.
Being a growth industry adds further complexity to the drive for greater sustainability, and as if this wasn't enough, there is yet another issue creating turbulence on air freight's flight path to net zero: lack of supply chain support.
Roland Berger has produced a paper exploring this very issue, in which it says greater supplier involvement is critical if green aviation is to become a reality.
The paper is written by two of Roland Berger's top sustainable aviation experts: Senior Partner Manfred Hader, who heads up global aerospace and defence operations, and Stephan Baur, Principal, who is an expert in aerostructures and interiors.
Hader and Baur say that there is "a lack of market coordination along the supply chain", and that this is preventing progress on sustainable aviation technologies.
OEMs 'need to collaborate with suppliers'
To improve things, they say, original equipment manufacturers (OEMs) "need to clearly communicate technology roadmaps with suppliers", adding that governments "must also commit to increased funding and clearer policies".
The Roland Berger consultants say that, of all aviation industry suppliers, systems suppliers are making the most progress, because "they are concentrating on electrification of onboard systems and other weight- or energy-saving solutions to improve energy efficiency".
Baur adds that aerostructure and interiors suppliers are also focusing on reducing weight, as well as improving recycling loops for materials.
Yet it is propulsion suppliers that have the biggest impact on aircraft sustainability.
The majority, says Hader, "are currently focusing much of their efforts on sustainable aviation fuels (SAF) in combination with more advanced conventional engines".
Three quarters of respondents to Roland Berger survey say these two things are their first or second priorities, while a quarter say hybrid propulsion is a main priority and just 16% say hydrogen.
"Electric propulsion, which is mostly suited to shorter flights and would therefore cover just a small percentage of industry emissions, is even less of a priority," says Hader.
Sustainable aviation fuels 'not enough'
But, continues Hader, sustainable aviation fuels are not enough
"They are a transitional aid rather than a game-changing solution," he explains. "They're designated mainly to make today's aircraft more sustainable for the next two decades".
Hader says SAFs use scarce supplies of green electricity with a lot less efficiency, and adds that the aviation industry's goal of covering 2% of flights with SAFs by 2030 "is not enough to achieve broad market adoption of SAF by 2050".
"The technology is still in its infancy," he says, adding that "providing all air traffic with SAFs by 2050 is a ship that has already sailed".
Returning to the subject of sustainable-aviation technology, Hader says this "is moving much too slowly, and the industry knows it".
The reasons for this vary, he says. More than a quarter (28%) of survey respondents cite the absence of a clear roadmap from OEMs; 21% feel a lack of investment is most to blame, while 18%). Say limited human resources are to blame.
Unfortunately, say Hader and Baur, supplier struggles are just the tip of the iceberg – that the entire aerospace sector is currently falling short in driving the industry towards greater sustainability.
"Market participants are highly dependent on each other to develop new technologies, and the required investments to reshape the industry are huge," says Hader. "If the industry cannot act together, development stalls for everyone."
Supplier focus on SAFs 'limiting tech development'
For suppliers, it seems that a lack of external guidance and overemphasis on SAFs is limiting technological development.
Airframe and engine OEMs, meanwhile, are currently following different technological roadmaps, points out Baur. "This is despite the need for a more unified approach," he adds.
And to compound the problem, they say governments are struggling to provide clear, internationally aligned guidance.
"Without direct demand or clear roadmaps, infrastructure providers have little incentive to invest in sustainable infrastructure such as hydrogen fueling capacities," explains Hader.
So, what needs to be done? Hader and Baur say OEMs must take a leading role and – in conjunction with governments and authorities – decide which specific technologies to pursue.
"Then they must communicate detailed technological roadmaps quickly and clearly across the entire sector," says Hader, "and with a specific focus on their suppliers".
He says this "would help to intensify R&D efforts throughout the supply chain and drive faster technological development, as well as allowing a more effective allocation of funding".
He adds: "In turn, this would enable a clear, international infrastructure roadmap for areas such as refuelling once technologies are ready."
In conclusion, the pair warn that, although 2050 might seem some way off, the long timelines in the aviation industry mean it must act now to stand a realistic chance of hitting its targets.
"Suppliers are willing and able to take on a more active role in improving sustainability, but the onus is on OEMs to involve them more effectively," Hader says.