Taking on logistical challenges with the Red Cross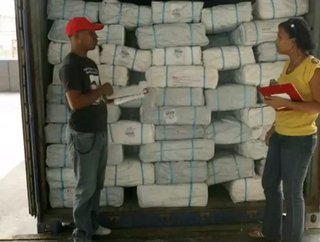 Written by Claire Durham,Logistics Manager at International Red Cross It is a universally acknowledged truth that disasters do not happen on a Monday m...
Written by Claire Durham, Logistics Manager at International Red Cross
It is a universally acknowledged truth that disasters do not happen on a Monday morning at 10 o'clock. The text message came in at midnight on 12th January 2010.  It simply read 'ERU info: Haiti: 7.3 EQ off coast. Tsunami alert.' You don't know how bad things might be, but you prepare for the worst. It was to become the biggest single country response the Red Cross Movement had ever responded to.
Red Cross has a number of Emergency Response Units (ERUs); trained teams and equipment ready to deploy anywhere in the world 24/7, 365 days a year. The British Red Cross (BRC) has a Logistics ERU, comprising of four people and all the equipment they'd need to set up and run a logistics base for up to four months after a natural disaster.
It's relatively easy to charter an aircraft to pick up stocks of the life-sustaining items that Red Cross stores at warehouses in Panama, Kuala Lumpur and Dubai. It's harder to know if the airports are still functional, what aircraft they can receive and if they can refuel. The response in Haiti was more complicated as it happened in the capital city. The decision makers who can waive visa requirements, customs duties and simplify importation channels were caught up in the earthquake, making the importation of aid less straight forward. 
Governments want to know what goods are entering their country - even if they are tax exempt relief aid; therefore Red Cross need to comply with all of the rules and regulations.
Under the Kyoto agreement, governments are required to assist the flow of aid into a country and will often set up a simplified process, with less documentation or extended ministry opening hours. Although there may be a 'honeymoon' period where goods flow freely in the first days, aid agencies have to account for everything at some point, so an auditable paper trail is one of our key tasks, even when in the midst of an urgent relief effort.
By the 13th of January the first Red Cross Movement ERUs, including a logistics team, arrived in Haiti overland via the neighbouring Dominican Republic. These teams report on the current situation; needs, priorities, and the remaining infrastructure, producing a draft 'Plan of Action'.
For Haiti, we were lucky that the airport was still operational; however there was criticism that it couldn't handle all the flights required. At the peak of the relief operation it handled 140 flights daily- there was no mention that this airport used to handle seven flights a day. There are other challenges. Port au Prince (PaP) airport isn't used to handing big cargo aircrafts. There were no appropriate tow bars to move large aircraft on the ground, so I had to re-route my flight to refuel and to pick this vital equipment up.
The Danish Red Cross Logistics ERU set up a logistics base in PaP to help receive the massive influx of goods. Initially, it's a push supply chain. We are experienced in knowing what the broad needs are in these situations and the ERU will undertake a rapid assessment on the ground to compile a 'mobilisation table', prioritising what is needed, the specification and quantities of items. We don't send goods that are not requested and we don't second guess the needs. As the needs become clearer, we will move to a call forward and eventually implement a pull supply chain.
During this time I field calls to the western public who want to donate items. Although these people want to help, this is counter-productive, with piles of unwanted and inappropriate goods blocking the ports, hampering the operation and often costing huge sums of money to dispose of. As logisticians we have to deal with this, which can waste a lot of valuable resources. Cash is better, it allows us to buy what we need, often in country which is quicker and cheaper and also stimulates the local economy which helps the country to recover.
On the morning of 15th January, just three days after the tsunami, we were asked to send our logistics ERU to Dominican Republic to set up a second receiving base to support the operation. A second entry point was required to manage all the aircraft trying to deliver search and rescue teams, health and sanitation equipment and basic life sustaining goods. Our team were on the ground within 24 hours.
We use satellite phones to give us broadband so we can receive the shipping documentation ahead of time to present to customs. We have a good system that gives us visibility of relief item in the pipeline: donor, items, quantity, packaging, vessel, port, ETA. This allows the team to undertake resource planning and management for efficiency and cost-effectiveness.
With Haiti, landing slots were at a premium. Flights destined for Santo Domingo were re-routed mid-flight to PaP, as slots became available or vice versa when delays occurred.  The team would work at the airport and warehouse in a more reactive manner than we'd normally expect, counting and documenting everything received and despatched so that we can account for every blanket and every pound spent from the money donated to the Red Cross Movement.
Goods were held in Santo Domingo warehouses until they were requested and then trucked over border to Port au Prince. This needed to be coordinated with the Haitian Red Cross who would send a representative to facilitate the crossing. The increased traffic through this route could slow things down significantly.
Long after the cameras have stopped rolling the Red Cross remains. Three years on we still have a BRC team in country. The final part of our project is repairing and rebuilding houses in Delmas 19, where they had collapsed or cracked during the earthquake. Due to the organic and unplanned way that the city has grown, access to each house plot is a maze of alleyways, some too narrow for even a wheelbarrow to fit. Hand carrying in buckets and specially devised trollies will be the main distribution routes. Even accessing the warehousing is challenging with limited, highly congested roads for the re-supply of building materials.
The management of aid is more planned and controlled than you might first think. Behind the scenes we spend a lot of time honing the tools and systems to support a response anywhere in the world. We recruit experienced logisticians, many of whom now hold the qualifications in humanitarian supply chain management.
Stocks are prepositioned in warehouses close to where they are frequently needed and framework agreements with suppliers are set up. The Red Cross has its own online emergency items catalogue. We standardise job descriptions, ERUs, terminology and training to allow inter-operability between the 186 local Red Cross and Red Crescent societies around the world. Nobody can predict the exact location of the next drought, earthquake, or violent conflict. But when they happen, the British Red Cross must be ready to act- within hours not days.