Suez: Navigation of vital shipping lane suspended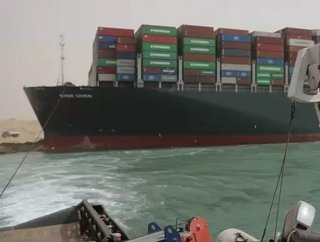 Vessels halted by the Suez Canal Authority as efforts to refloat stranded cargo ship blocking the narrow shipping lane enter the third day...
Navigation through the Suez Canal has been officially suspended after attempts to refloat the container ship wedged across a single-lane stretch of the narrow shipping lane failed. 
Admiral Osama Rabie, Chairman and Managing Director of the Suez Canal Authority (SCA) declared this morning that no vessels would be allowed to pass through the canal "until the floatation works of the large Panamanian container vessel EVER GIVEN […] are complete".
The MV Ever Given was reportedly hit by high-speed winds that spun the vessel sideways and run it aground early on Tuesday morning. The container ship is one of the largest in the world at 400 metres long, able to carry around 20,000 Twenty-Foot Equivalent Units (TEU). Owned by Taiwan-based Evergreen Marine Corp., it was transporting freight from China, bound for Rotterdam in the Netherlands. 
Vessels stranded
More than a dozen vessels have been forced to drop anchor in the Bitter Lakes. A statement for the SCA said: "Yesterday witnessed the transit of 13 vessels from Port Said, among the Northern convoy, that were expected to continue their transit through the Canal according to projections on the time of completion of the floatation works of the grounding vessel. However, an alternative scenario had to be adopted, which entailed those vessels dropping anchor in the Bitter Lakes waiting area, until navigation can be fully resumed after the floatation of the vessels."
It is believed at least 150 vessels have been delayed at either end of the canal. Attempts to push the wedged container ship back into deep water have so far failed. Eight large tugboats - the most powerful of which has a towing power of 160 tons - resumed their attmepts on Thursday morning, following a short overnight break at low-tide. Diggers are attempting to release the ship from the banks of the canal, though they have so far been unable to excavate enough soil. If the current efforts to dislodge the Ever Given fail, authorities fear an unloading exercise could potentially take weeks.
The blockage could have a major impact on global supply chains. On average, two ships an hour pass through the manmade strait. 
Ian Stone, CEO, Vuealta, says supply chain and logistics professionals impacted by the blockage will need to evaluate the longterm ramifications. "The key with the Suez situation is the ability for the cargo ships behind Ever Given to make decisions and forecast outcomes," he says. "What is the impact to my end customer if this is longer than 2 days? What additional costs will we incur by re-routing via the Cape? Is there a weather event on the alternative route that would mean we would be better to stay put for longer and see this through?. The outcomes can impact cost, service, waste and time, all expensive commodities, so the right decisions need to be made by scenario modelling the drivers in real time."
Images: Suez Canal Authority