Steinhoff Retail benefits from private cloud environment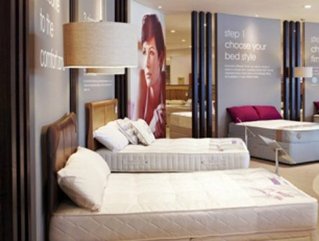 Follow @JosephWilkesWDM One of the UK&rsq...
One of the UK's biggest retailers is reporting on the logistical benefits of moving its entire critical IT infrastructure to an independent IT managed services provider, with a private cloud environment providing a "resilient service with proven disaster recovery capabilities".
Running a business such as Steinhoff UK Retail, Europe's second largest furniture and bedding retailer with brands such as Harveys, Bensons, The Bedshed and Cargo, requires innovative infrastructure and meticulous planning behind the scenes and the company recently moved its entire critical IT infrastructure to independent IT managed services provider, Adapt.
Operating in a dynamic, global market, Steinhoff's business is subject to constant change. As such, the company must ensure enough flexibility within its vertically integrated supply chain in order to keep up with sudden changes within the business environment, while keeping costs low.
The Adapt solution delivers continuous services to Steinhoff UK Retail's portfolio of 550 retail outlets and 11 warehouses, as well as to its call centre and two Head Offices. 
Adapt delivered a production-ready scalable web hosting service to support seasonal high demand on Harveys' online furniture store and a virtual infrastructure for the testing of a key business application for Bensons for Beds.   
Steve Webster, Head of IT at Bensons for Beds. "Our business is extremely fast-paced - and with our significant online presence, we cannot afford any downtime or service outages. We needed to find a supplier that could deliver a resilient service with proven disaster recovery capabilities.
"We now have an exceptionally robust solution with a dual data centre solution, underlying support network and strong service delivery model."
Following a full market review and a bid process, Adapt was selected to provide managed hosting and networking services to its core office sites and a fully integrated first line helpdesk for Steinhoff UK Retail's in-store personnel.  Notably, Adapt's enterprise Virtual Data Centre (eVDC) was also chosen for its ability to support Steinhoff UK Retail's growth with resilient, affordable services that would deliver effective disaster recovery capabilities and optimise Steinhoff UK Retail's existing infrastructure.
Initially, Adapt migrated the IT systems for Harveys and Bensons for Beds into the hosted environment, which provides a dual site solution for both staging and disaster recovery. It was also tasked with creating a virtual environment for one of Bensons for Beds' warehouse distribution products. During the Christmas period, Steinhoff also required Adapt to build and host infrastructure for Harveys' website to increase bandwidth to support significant peaks in traffic.  
"This is a perfect example of the continuous competitive edge that a private cloud environment can offer businesses in the fast-paced, dynamic retail industry – not just at busy periods such as Christmas," said Simon Fisk, Sales and Marketing Director at Adapt.
Adapt's burstable infrastructure and bandwidth supported Steinhoff UK Retail's IT infrastructure, managing the seasonal surges throughout the year particularly during two of their peak trading times at Easter and Christmas.  The two companies are also working together to build an infrastructure and network that will support further expected surges in trading for both Harveys and Bensons.  
 Talking about the migration of the Harveys website, Mark Spicer, Head of IT at Harveys said: "It was critical to get this system up and running as soon as possible without any downtime as this would be our first undertaking under the new agreement. We now have a creative solution with the extreme flexibility required to cope with sudden expected and unexpected peaks in demand."
Adapt's innovative Service Pod model – a focused technical centre of excellence that takes ownership of Steinhoff UK Retail's IT environment and acts as an extension of its business. This approach gives Steinhoff 24-hour access to their virtual team or 'Service Pod', comprising technical experts with knowledge of all key IT areas of Steinhoff UK Retail's environment.
Each Pod is fronted by a Service Delivery Manager and ensures a high-quality, accurate response to any service issues and a strong degree of problem ownership.
"The key thing here was that the team building the solution (the Pod) became the team that then supported us when we transitioned into early life support and then BAU. This allowed the transition to become seamless." said Spicer.