Seven key features of effective supply chain dashboards, by TAKE Supply Chain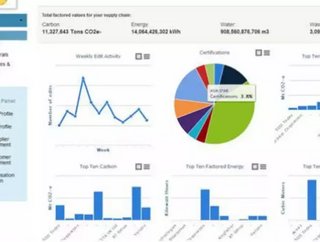 Written byAnil Kodali(pictured, right), Vice President of Services forTAKE Supply Chain We can all get overwhelmed by the influx information, especia...
We can all get overwhelmed by the influx information, especially now, in the era of "big data." As most of us know, the key to making data useful in a business setting is not looking at every single bit and byte, but instead, determining "KPIs" – those key performance indicators which are truly meaningful to our business – and focusing on those. Real time analytic dashboards based around those KPIs, when done right, can make even the most complex data digestible and useful.
A single screen or top-level view of all the activity within your supply chain can not only be helpful for you, but can also make the information you're providing more easily understandable to others within your organization. Your top executives do not have time to analyze various reports, statistics and spreadsheets. Pulling the relevant infor
mation together into one place, with key data at the forefront, makes your data more valuable and helps executives make better decisions.
In order to ensure that your dashboards are as effective as possible, include these seven key features and functionalities:
1) Drawn from real-time data, delivering real-time analytics.
Stale data can be inaccurate data. Ensure that you are always looking at the latest information by having your dashboards interact directly in real time with the source data such as an ERP.
2) Customized for your business and the specific KPI's driving the organization.
Prioritize the development of dashboards which are tied to the key KPI's measured for your organization. Too much information or too many dashboards will result in distractions and lack of focus on the key issues. Through our work with various supply chain organizations we have found some KPIs that are generally helpful. You may want to consider these for you dashboards:
         Meeting Purchase Order requirements
         Lead Time on part delivery
         Price Variance
         Quality of shipments
         On-time delivery
         Invoicing delays / errors
3) Self-service capability for "deep-dive" views.
When you want to have another cut of the data, you shouldn't have to go back to your developer to build a new view. Powerful dashboards include the ability to drill down to look into problem areas or fine tune a query to have a slightly different view etc.
4) Secure views based on user knowledge level and "need to know."
Executive and mid-level management should have views customized to the level they require in order to make decisions at their level. At the same time, views should also be secured based on the user level. Individual users should not be able to view data that is beyond their access level.
5) Help drive decisions.
Along with #4, dashboard design should also provide an easy read of key data which the user is expected to analyze and make decisions on. This could include:
Consolidating all the various parts associates with supply chain (from inventory, to shipping, order tracking etc
Driving users into taking action on the data displayed
6) Shared views with outside vendors and suppliers.
Your dashboards don't only provide information that's beneficial within your organization. When you share your supply chain dashboards with your suppliers, they can see how they are measuring up and work to improve troubled areas, thereby improving the overall performance of your supply chain. For example: A dashboard that tracks the delay in PO acknowledgement by suppliers or delays in invoicing due to errors helps both buyers and suppliers to proactively look at and resolve this.
7) Accessible via mobile devices.
As smart devices continue to proliferate throughout the enterprise, real-time information visibility and control from virtually any location will become expected. Mobile access and control will ensure your supply chain continues to move smoothly 24/7.
Proactively resolve problems
With these key features, your supply chain dashboards should help to proactively resolve the problems faced by various stakeholders with your organization and can help in identifying areas for continuous improvement across your supply chain. Please watch for my next blog post on applying new technologies to supply chain management.