Road haulage problems 'cyclical', says FreightWaves CEO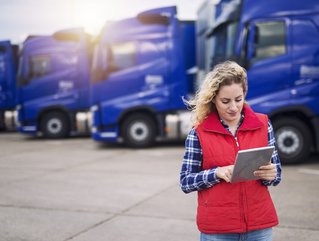 FreightWaves CEO says that driver shortages and capacity problems are not products of the pandemic but a well established boom-and-bust economic cycle
The current problems facing road freight - driver shortages and capacity problems - are not the product of the pandemic, but rather a well-established natural economic cycle, says one of the most respected voices in the global haulage industry.
Craig Fuller is CEO of FreightWaves, which provides benchmarking, analytics, monitoring and forecasting of the global logistics industry. Fuller says that the "freight cycle" lasts for three to four years and "is more cyclical than a broader economic cycle".
Fuller explains that in the early part of the cycle, the freight market is balanced, and that trucking fleets "enjoy consistent freight from dependable shippers". In return, he says, they offer a contracted rate, "whereby the shipper has an expectation that a truck will show up when a load is tendered and the rate will always be the same."
Fuller says that although spot-market activity will exist, it mostly consists of infrequent loads at the low end of the market. Trucking spot rates are rates that are quoted within a few days of pickup and are normally quoted for the purpose of hauling a single load but can be used to haul a group of loads.
He adds: "But as capacity tightens, freight demand in the contracted market exceeds dispatchable capacity. Tender rejections increase as carriers run out of allocated capacity in the contract market.
Road haulage boom & bust cycle 'is normal'
"Contracted loads will flow into the spot market. Once demand in the spot market exceeds the capacity in that market, trucking spot rates will increase."
Fuller goes on to explain that If trucking spot rates exceed trucking contracted rates for 90 days or so, haulage companies will start to move freight away from contracted freight and into the spot market.
"As trucking spot rates shoot up, new trucking owner-operators join the trucking industry to take advantage of high spot rates and numerous load opportunities," Fuller says. "This process can take many quarters and will continue so long as trucking spot rates and freight demand is plentiful.
Fuller says that as carriers reject contracted loads and shift their capacity into the spot market to enjoy higher paying freight, "shippers approach carriers with offers to pay higher contract rates for certainty on capacity."
He says that if freight demand stays strong, trucking firms will enjoy higher contracted rates with more freight demand. Contract rates will increase.
"Trucking company executives, associations, and the media will talk about the 'driver shortage' as the reason for the capacity tightness," Fuller says. "But in all of these conversations, owner-operators are largely ignored, without anyone realising how much capacity is being created among independent operators."
He adds: "Employed truck drivers will leave fleets and become owner-operators. Inexperienced entrepreneurs will see high spot rates and hear about the 'the driver shortage' and join in the spot market owner-operator frenzy.
"Capacity expansion will continue to increase, because spot rates are still high and owner-operators can make good money. They will also believe the 'driver shortage' to be a factor and will pile into the spot market, further creating dispatchable capacity."
Fuller says that the bust part of the cycle comes as demand slows and capacity expands beyond the number of load opportunities in the market.
"When this happens, tender rejections fall, followed by declining spot rates. If this happens over a long period of time, some trucking companies will go out of business. This is what causes the boom and bust cycle in trucking