Qatar Airways Cargo transports 67 horses for Al Shaqab equestrian event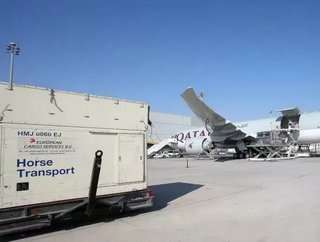 Follow @SamJermy and @SupplyChainD on Twitter.A total of 67 world-class showjumping horses were transported on Qatar Airways Cargo freighters from Li&eg...
Follow @SamJermy and @SupplyChainD on Twitter.
A total of 67 world-class showjumping horses were transported on Qatar Airways Cargo freighters from Liège in Belgium to Doha, Qatar, for the final round of the 2014 Longines Global Champions Tour season.
The final Grand Prix of this year's series took place at AL SHAQAB, one of the most spectacular equestrian venues in the world, providing a fabulous international stage for the crowning of the overall Longines Global Champions Tour Champion.
The horses along with approximately 20 tonnes of cargo and equestrian equipment per freighter were transported via two Boeing 777F charter operations, with an accompanying eleven grooms per freighter, to ensure care, and safe and secure carriage from Liège to Doha and back for the horses.
Ulrich Ogiermann, Chief Officer Cargo for Qatar Airways, said: "We take great pride in our handling capabilities and ensure all appropriate care is taken, providing pets and other transported animals with a five-star service on the ground and in the air. Our focus remains on providing the special attention required, during all phases of transportation, to ensure a smooth comfortable and restful journey for the animals.
"All Qatar Airways Cargo staff attend a number of training courses in animal handling, and our personalised service, high quality of operation, and excellent record of on-time delivery makes us a prime carrier for the transportation of live animals."
Qatar Airways Cargo transports all kinds of animals in accordance with International Air Transport Association (IATA) Live Animal Regulations. Unlike pets such as cats and dogs, horses cannot be transported in the lower deck of regular passenger planes and must be flown on dedicated freighters.
Prior to the flight, the horses are loaded into "air stables" or "horse stalls" which are special containers that can fit up to three horses side by side so that they are safe and secure while on the aircraft. A typical air stable is 294 centimetres wide and 232 centimetres high.
Jan Tops, President of the Longines Global Champions Tour, said: "The horses had a first-class flight experience and I want to thank Qatar Airways Cargo for its close co-operation on this important matter. The welfare and safety of the horses is our top priority."
From January 2012 through to October 2014, Qatar Airways Cargo has transported 2,210 horses all around the world. In July 2014, Qatar Airways Cargo flew 53 showjumping horses from Calgary, Canada, to Liège in Belgium where they trained to participate in the World Equestrian Games (WEG) that were held in Normandy in August, while in March this year, 79 horses were transported from Liège to Doha and back, via two freighters for the CHI AL SHAQAB event.
By utilising the fleet of Boeing 777F and Airbus A330F aircraft, Qatar Airways Cargo offers customers worldwide an increasing portfolio of part and full-charter services. By doing this, Qatar Airways has operated charters carrying cargo ranging from horses to outsized items for the oil and gas industry.
Qatar Airways Cargo completed the transition from a manually handled cargo environment to a fully automated cargo terminal at Hamad International Airport earlier this year. The brand new terminal contains a 4,200 square metre live animal facility with dedicated stalls for horses, kennels for pets and separate holding areas for various live animals.
The facility is equipped with veterinary laboratory, washing bays, feeding area, hydraulic work stations, sick bays, quarantine area and exercise area. Expert animal health care services are provided on request, 24 hours a day, seven-days-a-week.
Qatar Airways Cargo serves more than 40 exclusive freighter destinations worldwide via its Doha hub and also delivers freight to 145 key business and leisure destinations globally on 141 aircraft. For more information, please visit: http://www.qatarairways.com/global/en/press-release.page?pr_id=pressrelease_cargo-show-horses-181114