Q&A: Outlining the attractiveness of sea freight with Maersk Line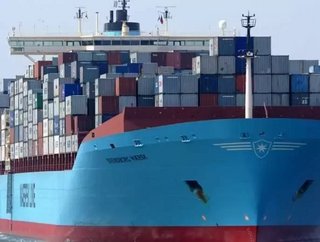 Follow @SamJermy and @SupplyChainD on Twitter.SCD: Hello Brian. Firstly, as an organisation with a long, illustrious history as an overseas cargo carrie...
Follow @SamJermy and @SupplyChainD on Twitter.
SCD: Hello Brian. Firstly, as an organisation with a long, illustrious history as an overseas cargo carrier….how do you remain at the forefront of the industry?
Innovation plays a major role in keeping us at the forefront of the industry. Whether that's introducing the Triple Es, the largest container ships in the world, or optimising our network to ensure that we derive maximum efficiency from all our vessels and their routes, innovation means that we stay ahead of the competition.
SCD: Can you explain why sea freight seems to remain the favourable choice over air freight? Is it because the airlines bill customers by a chargeable weight, whereas sea carriers charge per container?
It's really all about volume – container ships can carry more than planes, and as such the cost for transporting goods via sea is lower per item than it is via air. Obviously there are instances where the speed of air outweighs the associated costs.
That said, the container technology we employ, particularly our refrigerated Reefer containers, means that supposedly short-life items, such as fresh food, can now be kept in a 'fresh' state for much longer, making sea freight an attractive proposition for industries and sectors which might have traditionally only used air freight.
SCD: What would you say are the main reasons behind Maersk Line's profits in Q1 of 2014…lower unit costs?
The main drivers in our Q1 results were high utilisation of vessels and continued cost reductions. Volumes increased by 7.3 percent to 2.2 million forty foot equivalent units (FFE). Lower bunker (fuel) prices also helped.
We have spent a lot of time making sure our network is as efficient as possible to ensure maximum return – this contributed to our 2013 results and continued to help drive our financial performance in the first quarter of 2014.
SCD: How do you manage what must be a large and complex supply chain operation with over 600 vessels in operation at Maersk Line? Do you have a guaranteed shipping time?
Our reliability is one of our key selling points to customers. Our clients know that we will do what it takes to maintain our vessel schedules.
As you point out, we have a huge number of vessels in operation calling at ports across the world – a Maersk Line vessel calls at a port every 15 minutes. That means we have to be strict when it comes to time in port. Unfortunately we can't control everything, and factors like the weather do mean that we have to be prepared to make tough decisions and have contingencies in place when vessels are delayed.
Having good relationships with suppliers really helps here. In the UK, we have a dedicated berth at the Port of Felixstowe, and also have relationships with London Gateway and Tilbury. That means that if vessels are delayed and berthing windows are missed we have alternative options to make sure our customers get their cargo and our vessels stay on schedule.
SCD: What training and/or programs do you have to develop the skills of your employees? How do you attract and retain these staff? Is there a clear career progression pathway in place throughout the company?
We offer all our employees clear training programmes to help them do their current jobs and also to develop their career.
As a global employer, being able to work abroad has its attractions for potential employees, and the Maersk Group as a whole has a track record of retaining staff and helping them develop through offering people the opportunity to move into different Group business units.
A significant number of staff have been with the Group for many years – whilst we do recruit from outside for experienced roles and to bring in new talent and ideas, we also help people grow within the organisation to take on new challenges.
Employees can see senior leaders have started at the bottom and worked their way up, and that's a path that's open to everyone who has the ambition and ability to be a future leader of the business.
We make every effort to listen to our employees, as well as keeping them informed on both global and local developments to our business.
SCD: What are the main industry trends and challenges Maersk Line face currently?
Over capacity continues to be an issue for the industry as a whole – the past couple of years has seen a lot of new vessels ordered pre-2008 now being introduced, leading to a surplus of space. Our own network efficiency drive means that we are not as exposed as some of our competitors.
The world has been slow to recover from the recession, but we expect the global demand for container shipping to increase by 4-5% in 2014, and we aim to grow with the market.
However, over capacity will remain an issue, as will freight rates. The fluctuating cost of fuel will also remain a consistent challenge, both for our vessels and for our inland costs.
SCD: On a general note, what sets you apart from competitors within the market?
Our reliability is a major factor, as is our investment in new ways of doing business. We offer our customers an industry-leading online booking system, My Maersk Line, and many of our customers, both in the UK and abroad, now manage their bookings online.
In the UK, we offer a ship to store door service with an extensive inland network of rail and road haulage, meaning businesses from across the country can benefit from our services which call at Felixstowe.
We're also breaking new ground in our approach to being more sustainable as a business. When you have the footprint we do, you have a big impact on the environment. For us this means we have a big responsibility as well. We have now reduced our CO2 emissions by more than one-third since 2007.
We are seeing customers with large supply chains taking more interest in their overall impact, and many appreciate being able to see the role we play in helping them be more sustainable in our own efforts to keep emissions down.
SCD: Looking forward, what are the targets over the next 5 years and how do you see Maersk Line getting from where it is now to that point?
Container shipping is going to continue to be tied to the global economy, and as that grows, so we should grow. I mentioned before about growing with the market – we cannot do that without being a lean and agile organisation where our costs are controlled and our vessels are as efficient as possible. There are factors outside of our control, but by making sure everything is working at an optimum level, we can minimise the risk of being overexposed should something take a turn for the worse, whether that's rising fuel costs or bad weather.
Our focus will continue to be on utilising our vessels, getting the most out of our network, reducing costs where we are able and grow with the market.