Port upgrades vital to EU rail freight plans - McKinsey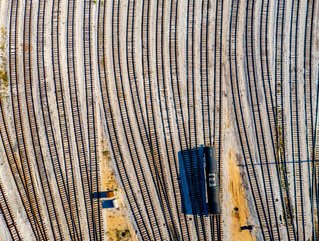 McKinsey report on EU sustainability proposals to double rail freight by 2030 says port infrastructure improvements will be vital to success
The European Union's ambitious plans to double rail freight by 2030 will depend as much on port development as that of rail, a new report from McKinsey says.
The report - Bold Moves to Boost European Rail Freight - highlights how in the past 70 years, European rail freight has seen a huge decline in its share of supply chain movements - so-called 'modal share'. This has plummeted from 60% in the 1950s to just 15% today.
Several major European import and export port hubs have very low rail modal share. In Felixstowe it's 17%, just 8% in Antwerp, and 7% in Valencia.
EU plans to double rail freight by 2030
In a bid to combat such decline, the European Union (EU) announced bold plans to double rail freight's modal share by 2030. It says that doing so will not only cut the transport sector's CO2 emissions – because trains have lower carbon emissions than trucks – but will also ease road congestion.
McKinsey says the EU's plans will see rail-freight volumes grow by around 6% a year in ton-kilometers (tkm). A tkm is a freight unit measure representing the transport of one tonne of goods by a given transport mode - such as road, rail, air or sea - over a distance of one kilometre.
But it warns that achieving this goal will require "a massive shift in trajectory", involving a switch to new major long-distance freight flows, more key connection points, such as ports, and new industries able to replace volumes lost in declining sectors.
It adds that regulators and operators will also have to play a role in rethinking the regulatory model "and reorienting the industry to become more customer focused, and more profitable".
Another challenge, McKinsey points out, is that although rail transport is better for the environment, trucking is a supply chain favourite because it's cheaper, more flexible, and has greater reach than rail.
Port infrastructure 'vital for rail freight growth'
McKinsey called on European ports to "strategise hinterland activity", urging them to follow the example of the Port of Hamburg, whose redevelopment has enabled it to increase its rail modal share from 30% to 51% in less than three decades.
"Through targeted investment in infrastructure at the Port of Hamburg supply chains triggered a massive shift," McKinsey writes, adding: "Ports play a major role in the transport of European goods, handling around 50% of imports and exports. Rail access to ports is therefore a crucial factor in fulfilling Europe's aspiration for freight rail."