Photo gallery: Spanish windmills for Greece, by Delta Maritime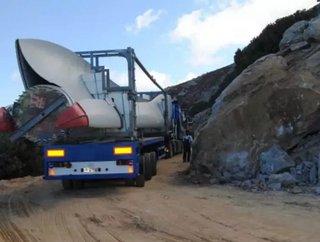 Delta Maritime Ltd, member to the Worldwide Project Consortium WWPC for Greece, managed the safe transportation of three sets of windmills and 14 x 20...
Delta Maritime arranged all local services in Ikaria from Agios Kyrikos port up to the site including the erection of the windmill towers. They chartered a small ro/ro vessel in order to carry the equipment and cargo from Agios Kyrikos main port up to the site via another smaller port entry because the roads in Ikaria were not accessible for this cargo.
The shipment detailed rotorblades E-44 : 21,5m length each of the blades, steel tower E-44 sections2 (length 17,00m flange diameter 1,81m/2,41m), weight 31 tons each, the nacelles : 4,4 m width each and generators of 4,1 x 4,1 x 3,1 meter and 24,3 tons weight each.
Worldwide Project Consortium WWPC is the leading franchise/membership network for professional project cargo freight forwarders with country/area exclusivity.