Oman Air and Cargolux sign air freighter agreement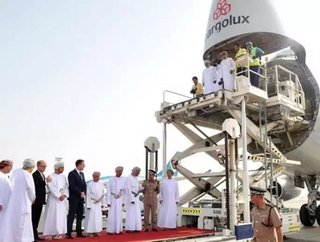 Follow @SamJermy and @SupplyChainD on Twitter.Oman Air has signed a joint venture agreement with Luxembourg-based Cargolux Airlines International, Europ...
Follow @SamJermy and @SupplyChainD on Twitter.
Oman Air has signed a joint venture agreement with Luxembourg-based Cargolux Airlines International, Europe's leading freight carrier and one of the top ten freight carriers in the world. The JV will create new opportunities for both companies in markets around the world.
The agreement was signed at a ceremony which immediately followed the arrival in Muscat on Tuesday 16 April of the first Cargolux flight to operate under the agreement. The ceremony was held onboard the carrier's B747 Full Freighter which was located in front of Muscat International Airport's VIP building.
The Chief Executive Officer of Oman Air, Paul Gregorowitsch, and the Chief Executive Officer of Cargolux Airlines International, Dirk Reich, were joined by a range of guests, including dignitaries, stakeholders and media representatives. VIPs included Darwish bin Ismail bin Ali Al Balushi, Oman's Minister responsible for Finance and Chairman of Oman Air, François Bausch, Luxembourg's Minister for Sustainable Development and Infrastructure, Paul Helminger, Chairman of Cargolux Airlines International, and Dr Juma bin Ali Al-Juma, Chairman of Oman Airports Management Company (OAMC).
The new service route's flights originate in Luxembourg, fly to Muscat and then on to India. Cargolux provides the aircraft and Oman Air provides the belly capacity of its fleet. From the commercial aspect, everybody has 50 per cent of the space, of the profit, or of the loss.
The service has started with Chennai, India, and will then be expanded to other parts of India such as Mumbai, Bangalore, Hyderabad and beyond. Cargolux is keen to have two departures a day in two different directions.
Following the signing ceremony, Oman Air's Chief Executive Officer, Paul Gregorowitsch, said: "We are delighted to have entered into this Joint Venture agreement with Cargolux Airlines International. This will be the first full freighter service to have been launched from Oman and it will enable us to jointly deploy significant and commercially attractive freighter capacity throughout Oman Air's network. In doing so, it will provide significant support for the expansion and development of Oman Air's cargo operation. It will also enable Cargolux to make use of Oman Air's rapidly expanding freight capacity, as well as the outstanding cargo facilities at Oman's airports.
"Our product advantages include the carriage of project cargo, livestock, cargo aircraft-only freight, odd size cargo, vehicles and aircraft engines. Oman Air has considerable experience of safely shipping such freight to locations around the world.
"And, vitally, this Joint Venture will bring significant economic benefits for the Sultanate of Oman, building on Oman Air's already considerable social and financial contribution to the nation."
The Joint Venture will enable Oman Air and Cargolux to jointly access new freighter destinations and contribute to the development of Oman's logistics hub. In addition, it enables Oman Air to further expand its cargo operation and build on the range of cargo initiatives and innovations the airline has introduced over recent years. Furthermore, the agreement will provide Cargolux with access to the belly capacity of Oman Air's fleet and create new opportunities for freight transportation from Oman's modern port facilities. It is also anticipated that the Joint Venture will deliver significant benefits for the economy of the Sultanate of Oman.
The Chief Executive of Cargolux Airlines International SA,Dirk Reich, added: "We believe that this new Joint Venture with Oman Air will bring important benefits for Cargolux's customers in Oman, including fast and reliable connections across Oman Air's worldwide network. It will also enable us to proceed with our planned expansion of air freight services in 2015 from Oman to China, Europe, Africa and the United States. Furthermore, the Joint Venture will give Cargolux the opportunity to utilize Oman Air's experience of flying to 11 destinations in India, as well as to East Africa."
This agreement represents an important strategic partnership that will give an important boost to the Sultanate of Oman's standing as a major hub for the movement of freight between Europe, Asia and Africa.
In addition, Oman's natural harbours, positioned at the entrance to the Indian Ocean and Arabian Gulf, and its proximity to the sub-continent provide a major advantage over its competitors in the region. In addition, under the guidance of His Majesty Sultan Qaboos, Oman has invested in the development of state-of-the-art logistics facilities including ports, freight terminals and airports – not just in Muscat, but also in Salalah, Duqm and Sohar.
For more information, please visit: http://www.omanair.com/en/about-us/press-releases/oman-air-and-cargolux-sign-joint-venture-agreement