New tool makes social networking business friendly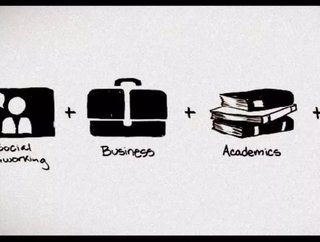 It seems the term 'Social Media is enough to switch off the majority of the logistics industry. Despite a growing number of networking newbies in...
It seems the term 'Social Media' is enough to switch off the majority of the logistics industry. Despite a growing number of networking newbies in the retail, healthcare and food industries who taking the leap into the next step of corporate communications, the logistics sector has so far remained unmoved by the world of web 2.0, with almost half (40 percent) of decision makers within claiming they don't see an advantage in social media for the logistics sector, and a further 50 percent confirming they have no plans to invest into this tool for the future, according to a study by the EU Logistics Hub.
Traditionally a consumer-facing tool, social networking is often perceived to be irrelevant to logistics companies who often have a B2B focus. Many logistics companies find it hard to justify the initial investment into social media, whether it is due to a slow ROI from dedicated social media staff, or risking a decrease in productivity from using existing staff to maintain professional or corporate profiles.
Despite this low interest amongst industry professionals, a number of pioneers within the logistics field insist that networking is the next big thing for the supply chain industry, with the potential to drastically improve the way the supply chain communicates. One network with the capability to initiate this change is B2B social network Businessfriend. Aimed directly at businesses and the professionals within them, Businessfriend combines the best features from established social networks in addition to providing unique Enterprise 2.0 features which increase workforce productivity.
"Businessfriend is created for productivity. Small enterprises and organizations benefit from the equalizer we provide in free and low cost branding and marketing. Larger corporations with more employees, more clients and larger global reach require an engine that can 'shrink' the size of this world down. Businessfriend provides the opportunity to do the business at significantly lower costs," explained Rhonda Marable, Communications Director at Businessfriend.
The network features a basic management software solution offering a broad range of solutions which enable employees to collaborate with their colleagues and outside organisations through a personal account. Named the BUSI platform, the intuitive interface offers all-inclusive solutions to communicate and collaborate with contacts, including video conferencing, document sharing, cloud storage, microblogging, group forums, email inbox and messaging features, in addition to a to-do list and calendar facilities.
Employees are able to interact with and promote their company through the company page; an independent account which offers a sleek micro site, incorporating a news-feed, a press room and a picture and video gallery, all with demographic information on visitors to the page.  The company platform allows organisations to 'add' their employees onto their profile, and from there can organise staff into specific departments and share documents, memos and company information to individuals or the entire workforce using the BUSI platform.
"No other website had the purpose of connecting professionals and providing them with empowered means to do business together. Some sites had the purpose of connection with no care for professionalism in an inherently public space. Then you had professional sites that didn't care about or think through the 'how' of allowing professionals to do business together.  Businessfriend's purpose of professional opportunity is what sets us apart," explained Marable.
Businessfriend emulates key features from internal enterprise social networking systems that are already used to great effect by companies such as the Home Depot, which has an internal social media site called 'The Warehouse', and TEVA Pharmaceuticals which use their internal networking site to reduce manufacturing cycle times and reduce lead times from suppliers.
As Tony Martis, VP of Supply Chains at TEVA Pharmaceuticals explained in an online video, the key benefit from Social Networks is often from its communications potential between employees, in addition to subsidiary benefits in advertising to customers.
"What is needed [in a dynamic business environment] is a supply chain of rapid response…many people who work in the materials business…historically thought about systems talking to systems across enterprises and thought about processes. But in reality, the speed of the chain is not really related to the systems used by the various companies - it's all about people talking to people. It's amazing how much more we get out of working on peoples' communications across multiple operations; synchronizations of activities through people as opposed to working to a system. The speed you accomplish is immensely greater than if you work through connecting systems," he explained.
Instead of finding and connecting with friends and prospective customers using social networks, businesses can now look to tools such as the Businessfriend professional platform in order to find and connect with suppliers, service providers, distributors, corporate customers and other logistics professionals. In addition, the academic section offers connections to colleges and universities to discuss industry and educational developments, and new employees can be sourced using the jobs function.
Joining entire workforces to a B2B social platform such as Businessfriend ensures a greater level of collaborations between partner enterprises, adding a human touch to connections and business relationships, in addition to letting current and potential audiences match a brand with the face of its key employees.
By taking the office environment online, you not only increase the speed of the supply chain, but also the depth of the relationship with partner enterprises and suppliers, ensuring that social networking leads to productivity for your business.