Malagasy Health Workers on Their Bikes Thanks to DHL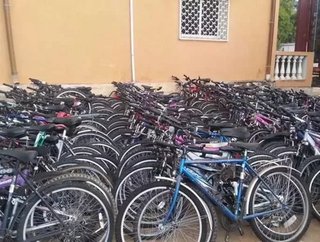 DHL has shipped 880 bicycles to Madagascar to help local community health workers deliver vital medical care in rural areas.The global logistics leader...
DHL has shipped 880 bicycles to Madagascar to help local community health workers deliver vital medical care in rural areas.
The global logistics leader shipped the bikes more than 5,000 miles around the world on behalf of international development charity, Transaid, which is pioneering a number of projects in the country to help improve people's access to health facilities.
The bicycles, sourced with the help of Transaid's partner charity Re-Cycle (Bikes to Africa), are part of a programme which helps local health workers reach more patients and have resources for delivering medical care in remote regions.
Before Transaid began supplying bikes, together with a package of training on safe riding and maintenance techniques, health workers had to make difficult journeys through challenging terrain on foot to provide medical care.
Graham Inglis, Chief Development Officer of DHL Supply Chain said: "We are committed to supporting Transaid's life-saving work across the African continent and to making a lasting difference to the lives of so many people in the countries where the charity operates.
"I'm therefore delighted to confirm that, through the DHL UK Foundation, we have also successfully secured two years' funding for Transaid's Driver Training programme which will both provide our employees with development opportunities and enable them to volunteer their expertise to make a real difference to this much needed programme."
DHL became a corporate member of Transaid last year and has supported the charity by providing a range of pro bono services; plus it recently donated a tanker trailer to aid driver training in Tanzania. The tanker is already radically reforming the way drivers are trained to manage liquid loads, taking the emphasis away from theoretical learning and enabling more practical experience.
DHL employees have also taken part in charity fundraising cycle challenges and Graham Inglis is a member of Transaid's board of trustees, thus helping the development of the charity at a strategic level.
Caroline Barber, Transaid's Acting Chief Executive, adds: "In the 12 months since DHL joined Transaid they have helped us achieve so much. In particular their employees have fully embraced Transaid - from support of our overseas projects to giving up their free time to take part in our fundraising events.
"We're incredibly grateful to DHL for all the support they have provided to us. They are a true example of what being a corporate partner is all about – being willing to share time and experience – which they have done in abundance."
For more information about Transaid or to find out how you can get involved with the charity visit www.transaid.org