The Long Haul: DHL Express on Latin America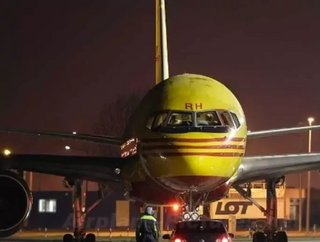 Largely overshadowed in North America, DHL Express is looking to make some noise to rival incumbents FedEx and United Parcel Service. With a leg up in...
Largely overshadowed in North America, DHL Express is looking to make some noise to rival incumbents FedEx and United Parcel Service.
With a leg up in a growing Latin American market, the company may have found the right foot in the right door to experience huge growth.
"Clearly in the United States, UPS and FedEx dominate the market, but we're doing very well in the international arena," DHL Express Americas CEO Stephen Fenwick says. "In South America, we've been there the longest, and we're second to none in service in Latin America."
Through Southern Air, the company recently announced that it will put three 777's in operation to aid its global fleet. The long-range, wide-bodied aircraft is the world's largest twin-engine plane and can travel more than 9,000 nautical miles.
SIMULATION OF 777 TAKEOFF FROM CINCINNATI
"Its overall efficiency and carbon efficiency is outstanding, and it's able to travel long distances to help our global network," DHL Aviation Vice President Red Alexander said.
The first of DHL Express Americas "Triple-7's" is already in operation, and flies between Hong Kong, Cincinnati and Bahrain in Dubai. The second two 777's are expected to join the fleet in early 2012.
With its North American hub at Cincinnati, DHL Express Americas has witnessed a 20 percent year-on-year volume growth in the division. The company has its own expansive network in Central and South America, where they're able to control the market.
The company works wonders out of its Panama City cargo hub, where they'll then forward shipments throughout South America, the Caribbean, Mexico and Central America.
The interesting arrangement of DHL's air freight operation in the Americas is that the company does not own its own fleet in the region. Instead, the logistics company works with a number or airline partners to get the job done.
DHL America's main partners include ABX Air, Astar Air Cargo and Capital Cargo International.
The company is able to overcome that challenge by investing heavily in its airport facilities. DHL Express Americas recently invested in its Panama hub, and is in the process of upgrading its facilities in Miami to better service the Latin American market.
"Miami, Panama and Madrid really service that part of the world for us, and we're investing in those points to grow our capacity," Fenwick said. "Our hub in Panama has cut transit times to certain areas by one day."
If South America is truly the next market to take off, it looks like DHL will be in the perfect position to take advantage thanks to its fleet and infrastructure investments.