Logistics digest; Maersk, DP World & AD Ports all buoyant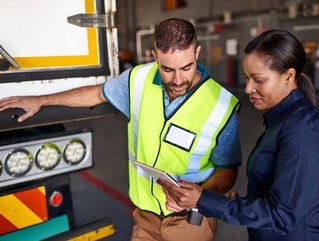 Maersk in integrated logistics buy-out; record revenue for DP World & AD Ports; China Airlines Cargo grows fleet; Körber upgrades Sainsbury's supply chain
US-Canada freight blockade ends
North America's busiest trade link reopened for traffic late on Sunday evening (February 13), ending a six-day blockade, Canada Border Services Agency reported, after Canadian police cleared protesters fighting to end pandemic restrictions.
The blockade had choked the supply chain for Detroit's carmakers, forcing Ford, General Motors and Toyota to cut production.
The bridge carries an estimated US$360mn a day in two-way cargo, a quarter of all US-Canada goods trade.
The 'Freedom Convoy' protests were started 17 days ago in the national capital Ottawa, by Canadian truckers opposing a vaccinate-or-quarantine mandate for cross-border drivers. The protests slowly encompassed wider issues, including carbon tax, and people in cars, pick-up trucks and farm vehicles joined the truckers.
California port congestion easing
Congestion in Southern California ports is slowly improving, with data showing fewer container ships are waiting to berth at ports in San Pedro Bay.
According to the Marine Exchange of Southern California (MESC) a total of 89 container vessels were held up at Ports of Los Angeles and Long Beach - 11 fewer than on 28 January and 20 down on the peak of 109, on 9 January.
A MESC spokesperson said: "Looking back to January, 376 vessels arrived, four fewer than the pre-pandemic level of 380. The 89 ships that remain backed- are now efficiently moving toward the ports when their berth is available."
Maersk adds to integrated logistics offering
AP Moller – Maersk is to acquire Pilot Freight Services (PFP), further extending its integrated logistics offering.
Pilot is a US first-, middle-, and last mile provider that specialises in bulky freight in the North America market, both for business to consumer and business to business distribution models.
The move follows earlier acquisitions by Maersk in the same space, with it having taken over Performance Team and Visible SCM.
Maersk CEO of Ocean & Logistics, Vincent Clerc, said: "We continue our path to develop a truly integrated logistics offering for our customers, offering them better visibility, more control and resilience in their supply chains.
"Pilot will add new services in the growing big-and-bulky e-commerce segment. This will also create significant cost synergies, by leveraging capabilities across the different parts of service solutions."
DP World sees huge 2021 container growth
Dubai-based DP World saw volume growth in 2021 of 9.4 per cent, handling 77.9 million TEU across all its global portfolio of container terminals in 2021.
A TEU - or Twenty-foot Equivalent Unit - is a unit of measurement used to determine cargo capacity for container ships and terminals. It's based on the dimensions of a 20-foot standardised shipping container.
DP World is based in the United Arab Emirates. It was founded in 2005 by the merger of Dubai Ports Authority and Dubai Ports International. DP World handles 70 million containers, brought in by around 70,000 vessels annually.
In the final quarter of 2021, the terminal operator processed 19.6 million TEU, up 2.6% on the year-ago quarter..
"This performance is due to our continued investment in high-quality assets in the right locations, and our strategy of offering integrated supply chain solutions to cargo owners," said Sultan Ahmed Bin Sulayem, Chairman and CEO of DP World.
AD Ports reports 2021 revenues of US$1bn
The AD Ports Group has reported 2021 revenues of US$1.1bn - which is 14% year-on-year growth. The group says its success was driven by volume growth, business diversification and new partnerships.
Container throughput also grew to 3.4 million TEU in the year, increasing from 3.2 million TEU in 2020, despite ongoing supply constraints in the global shipping and container market.
Falah Mohammed Al Ahbabi, Chairman of AD Ports Group, said: "Buoyed by our culture of innovation and our key strategic partnerships with global companies, we continue to deliver robust results and maintain our positive momentum."
China Airlines expands Boeing freight fleet
China Airlines Cargo has added four new Boeing 777F freighters to its fleet, as it seeks cash in on buoyant air cargo demand globally.
"The 777 Freighter has played a critical role in our efforts to maintain profitability during the pandemic, and these additional aircraft will be an integral part of our long-term growth strategy," said China Airlines Chairman Hsieh Su-Chien. "Our fleet modernization program will enable us to deliver added value to our customers, especially as the global supply chain continues to evolve."
Last year was the best in China Airlines' 62-year history, with air cargo revenue up by 186%on pre-pandemic levels. This balanced out a 96% drop in passenger revenue. Currently, China Airlines is world's fifth largest air cargo carrier.
Körber in Sainsbury's logistics upgrade
Germany based supply chain specialist Körber has partnered with UK supermarket chain Sainsbury's to transform its logistics and fulfilment networks.
Sainsbury's currently has a network comprising legacy warehouse management solutions (WMS), and the Körber WMS is a key part of its journey to a more integrated network.
Anton du Preez, Körber's Executive VP, Supply Chain Software EMEA Sales, said: "The biggest challenge for Sainsbury's was finding a WMS adaptable enough to span multiple distribution and fulfilment centres across food, general merchandise and clothing.
"Plus temporary depots are used to provide greater capacity at peak times, such as Christmas. Körber's WMS meet these requirements."