Logistics analyst shares a Santa supply chain carol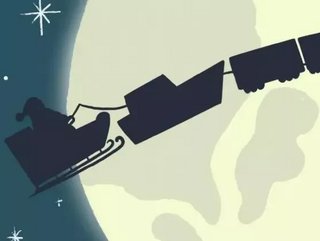 Logistics analyst Megan Preston Meyer also writes children's books about supply chain. This is her ode to that supply chain superhero - Santa Claus.
We hope supply chain problems have not cast a shadow over festivities this year, leaving you staring glumly at the empty space where your presents should be. Of course, Santa never has any such problems; he is the ultimate supply chain superhero.
On the subject of Santa, here is a special supply chain carol. It's written by Megan Preston Meyer, an author, speaker, and communications expert with more than ten years' experience in supply chain and analytics roles.
Megan is the creator of the Adventures of Supply Jane & Fifo, a series of picture books that teach kids supply chain and operations management concepts.
A very merry Christmas to Supply Chain Digital readers, from all of us here at BizClik.
'Twas the Month Before Christmas: A Supply Chain Carol
(With illustrations by Victoria Yanchylik)
'Twas the month before Christmas
And all through the port
Not a ship was unloading
Because labour was short.
This had ramifications
Up the supply chain and down
Which had all of us worried.
Because labour was short.
But the most downturned frown
Was on Santa himself
As he and his elves
stared at sad, empty shelves.
"Really?" he muttered
"And in the fourth quarter?"
But he sighed, and decided
To make his off-season shorter.
So, resigned to his fate
(And just a tiny bit surly),
He saddled his team
And they headed south early.
You can imagine the joy
And the shouts of "Hurray!"
When Santa showed up
At the port of LA.
"What happened?" he asked,
"Why aren't goods being driven
Out to retail outlets?
And don't say 'Ever Given'.
"That's been, like, six months
You should have caught up by now…
But maybe that incident
Was a shot o'er the bow.
And you should rethink
All these grandiose visions
Of globalization
And make better decisions.
"I know I go 'round the world
Bringing gifts door-to-door…
But I'm a magical being
So you should probably onshore".
And then, lecture over,
But with Christmas at risk
Santa's mood turned more merry
And his movements turned brisk.
He surveyed the scene
Then, to his team, gave a yodel
And to our delight
They were all intermodal!
There was sea freight and air freight
And rail freight – the whole lot
Plus, for a few small test markets,
An autonomous bot.
"Now Fishyback, now Piggyback,"
To his team he intoned
"On Birdyback and Cross Dock,
On Driverless and Drone"
They set right to work
And it couldn't be plainer
That soon they'd efficiently
Move every container
Then, once they were inland,
Elves would manage last-mile
So that, come Christmas morning,
There'd be reason to smile
Once goods started moving
Santa's 'jolly' shone through
"To all the Supply Chain professionals,
I appreciate you
"You keep everything flowing
The entire year long
And yet only get noticed
When something goes wrong"
And to the consumers,
Santa gave this instruction:
"Take a moment to be grateful
there wasn't greater disruption
"This season, bake your cookies
And sing 'Jingle Bells'
But then take a few moments
To thank all the brave 3PLs
"Who labour and toil
And carry the torch
So your next-day delivery
Shows up on your porch"
Then, having saved Christmas,
Santa's role was complete
So he jumped back in his sleigh
And he mustered his fleet
And we heard him exclaim
As he gave his team a bullwhipping…
"Merry Christmas to all
And to all, happy shipping!"
(© 2021 Megan Preston Meyer. All rights reserved.)