Jungheinrich: digitisation in the supply chain space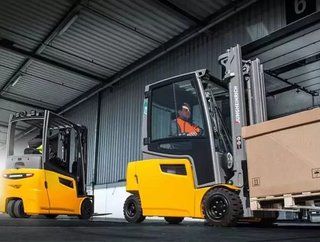 With a drive to redefine the manufacturing sector, Jungheinrich plans to leverage the latest trends in order to remain a leader in the industry. Throug...
With a drive to redefine the manufacturing sector, Jungheinrich plans to leverage the latest trends in order to remain a leader in the industry.
Through the implementation of lithium-ion batteries, Jungheinrich introduced new forklift trucks such as the EKS 412s and EFG series in 2019. Lithium-ion provides a compelling alternative to diesel or liquefied petroleum gas (LPG) and batteries also allow new charging models that not only provide a chance to reduce downtime, but also allow businesses to introduce more employee welfare policies that are becoming increasingly important in a labour starved market. Boasting the largest range of lithium-ion powered trucks available on the market, it's clear Jungheinrich is continuing to set the bar for the opposition to follow. Steve Richmond, Director of Logistics UK at Jungheinrich, affirms the importance of this new technology to his company. "On average, trucks are charged for more than four hours each day. Lithium-ion's longer life cycle delivers a complete shift from a single charge, removing the need for operatives to take time out to change batteries," says Richmond. "In addition to the reduced charging time, using an intelligent Battery Management System, lithium-ion technology can be repeatedly topped up without suffering any degradation, which means operators can embrace opportunity charging – such as during a tea-break or over lunch – further reducing the need for time-consuming battery changes. Looking ahead, this technology can provide a platform for significant cultural changes within a warehouse – changes that can further reduce the need for operatives to understand, even consider, the battery, and ease the introduction of new staff into the operation."
In terms of what the lithium-ion batteries provide, there is no person better-placed to talk than Michael Von Forstner, Head of Jungheinrich's Lithium-ion division. He stresses the importance of differentiating from industry rivals by launching new technologies. "We're a premium supplier and we have to differentiate, but it's not engineering for the sake of it. It has to benefit the customer because otherwise, we can't sell it," explains Von Forstner. "I recently spoke with a Spanish salesperson, and they informed me that an increasing number of Spanish customers are buying lithium-ion batteries. If you calculate the total cost of ownership and look into the lifetime maintenance-free arguments and so on, you enable the customer to say 'over the lifespan, I saved money through the new technology so it makes sense to purchase the new technology.'"
SEE ALSO:
On the road ahead, Jungheinrich is seeking to take warehouse efficiency to a whole new level. Richmond affirms his ambition to embrace digitisation in the supply chain. "The pressure is on to drive productivity, increase efficiency, improve accuracy and reduce costs at every stage of the process," explains Richmond. "This means that it's never been more important for organisations to ensure that they are moving beyond siloed operations, and that logistics and supply chain managers are adopting a holistic approach, where man, machine and software work in harmony. The importance of fully integrating solutions into business operations, digitalisation and connectivity are key. Whether a global player, mid-sized company or small business, organisations of all sizes must look to digitalise and connect their processes to become more profitable and more competitive."
Operating with a firm customer-centric approach, Jungheinrich is an innovative, fast-growing company at the forefront of the automation industry. The company is recognised as the only single brand organisation that provides a complete solution which includes trucks, racking, warehouse design, systems integration and customer service. Offering a business-led approach to intralogistics, Jungheinrich understands customers' challenges and deploys automation in order to create value with fully automated warehouses all over the UK and in Europe across a variety of different industries. "When it comes to automation, many organisations will have similar goals and challenges, but each is different in numerous aspects of their setup and as a result, there is no one-size-fits-all automation solution," affirms Richmond. "Expanding Jungheinrich's portfolio of automated and networked intralogistics solutions is an important focus for the business, as reflected in the acquisition this year of ISI Automation. This move is one of many and is enabling Jungheinrich to strengthen its end-to-end offering to customers and tailor the exact solution to each individual business. One of our key objectives is to continue to add to our range of core automation products."
With the future in mind, Richmond has a clear vision of how his company can continue to thrive over the next few years and beyond. "Our culture and energy are so important. Great products are vital but it's the people that make the difference and determine success. We talk of "yellow blood" and our passion for being the market leader in all aspects of intralogistics. It matters to us that we ensure we remain the best in class and create a sustainable competitive advantage for our customers. I believe this makes us the envy of the industry," summarises Richmond. "Our aim is to shift from an integrator into a manufacturing integrator. We hope to expand our own manufacturing product portfolio, which will mean the vast majority of products in the portfolio will be manufactured, delivered, installed and integrated by Jungheinrich."
For more information on all topics for Procurement, Supply Chain & Logistics - please take a look at the latest edition of Supply Chain Digital magazine.