Intermodal Europe 2013 reports success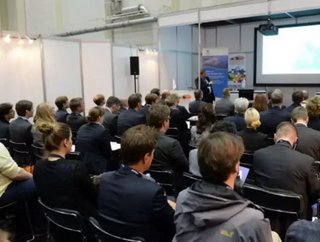 Report from Intermodal Europe IntermodalEurope has once again established itself as the leadingglobal exhibition and conference for container transport...
Report from Intermodal Europe 
Intermodal Europe has once again established itself as the leading global exhibition and conference for container transport  and logistics across the road, rail and sea sectors, at the Hamburg Messe in October 2013. 
Offering a full programme of informative conference sessions running alongside a comprehensive exhibition, Intermodal Europe is considered an important event for container transport and logistics professionals to discuss current topics in the industry and to witness new products.
"A combination of high-quality exhibitors, speakers and attendees helped to ensure Intermodal Europe 2013 was another great success," said Event Director, Sophie Ahmed.
Various topics were covered during the conference sessions including the future of the container shipping industry and a TIGER Demo ('Trans-Rail Integrated Goods European-Express Routes Demonstrators') Workshop, which looked at the implementation and internationalisation of demonstrated solutions.
A conference addressing Port Issues for Intermodal Transport, was presented by Peter Ward, Supply Chain Commercial Manager at DP World London Gateway, the UK's first 21st Century major deep-sea container port and Europe's largest logistics park.  
Director of European Rail Freight Association and Chairman of the Rail Freight Group, Lord Tony Berkeley chaired a conference looking at improving the competitive position of rail freight.  
IT and technology forums were well attended with speakers including Sean Maguire, Business and Product Development of WAM Technologies LLC; Mr. Rüdiger Beckmannof JadeWeserPort; andHolger Koenig, Advisory Service and Project Management from ref-tech Engineering.
"This is a great show, and it was excellent to have a speaking slot to talk about wireless technology advances in the reefer market" said Sean Maguire of WAM Technologies LLC. "The conference sessions are really important and the whole show is a great asset for the industry."
Intermodal Europe 2013 visitors were given the opportunity to join a tour by boat through the Port of Hamburg for an overview of the development plans and operational procedures in the port. "With the largest German seaport and, as an important hub for the seagoing foreign trade in Europe, Hamburg was a good place to hold Europe's leading container transport and logistics event," said Axel Mattern, CEO, Port of Hamburg Marketing.
Alongside the informative conference sessions, Intermodal Europe provided insight into the future of the intermodal industry through the exhibition. This year's event played host to more than 100 high-quality exhibitors, many with new equipment, systems, technologies and services to unveil.
"Visitors know they can come to Intermodal Europe to discover the latest developments designed to improve operations throughout the container and shipping industry" said Ahmed. "The quality of visitors was also very high this year, with thousands of decision makers networking and doing business during the three day event."
Intermodal Europe 2014 will take place from 11-13 November in Rotterdam, the heart of the container shipping industry in Europe. Already Intermodal Europe 2014 is looking set to be another great success, with over 70% of the exhibition space already booked.
The first ever Intermodal Asia event takes place in Shanghai from 1-3 April 2014and over 80% of the space has now been booked . "There has been demand for an Asia event for a number of years and we are looking forward to delivering this new event that will open up countless opportunities for participating companies and visitors" said Ahmed.
For information about Intermodal Asia 2014 or Intermodal Europe 2014, visit www.intermodal-events.com, contact Sophie Ahmed [email protected] or call +44 (0) 207 017 5112.